The newly patented All-Purpose (AP) Lazer system has the potential of surpassing 3D printing in the market.
Has the time come when every conceivable surface could be engraved? Envision inspirational quotes, artwork, or brand logos engraved on granite floors, marble walls, glass panels, and furniture? AP Lazer - a subdivision of SuperNova International—is leading the way with its innovative engraving and unique business model. "Traditional 2D machines work mainly on small and light-weight products, such as jewelry and small gifts," said inventor, Dr. Tong Li. "However, the AP Lazer System removes size and weight limitations, allowing for easier engraving of a wider range of items, such as furniture, floors, and walls.

The AP Lazer dramatically increases the capacity of a laser beam by dividing the traditional boxed laser engraver into two parts, a carriage cart and a removable Z table underneath. With an open bottom, the AP Lazer opens up the markets to large wood structures, stones, bricks and concrete products. They have also been used by manufacturers as cutting and marking machines on production lines. AP Lazer systems are being used in universities, auto manufacturers, hardware stores, sign makers, award and engraving shops, as well as funeral homes, cemeteries and monumental retailers, engraving caskets, monuments and cremation urns.
As Mr. Rick Fischer, CEO of Everlasting Memorial Jeweler, acquired the AP Lazer system four years ago and has had unexpected markets open up because of the AP Lazer's versatility. "My business has expanded to include glass-bottle engravings, unique personalized gifts, trophies, brick work, as well as caskets and cemetery monuments."
A $50 billion dollar engraving market already exists, using traditional laser machines for small and light weight objects. AP Lazer machine owners can depend on this consistency in the market, while opening up unlimited potential for larger, bulkier, and heavier objects.
"Sure 3D printing is generating excitement in the media," said Dr. Li. "But 3D printers are new, with only a small prototyping market. AP Lazer is leading the way towards permanently printing on all surfaces of the world. Even if 3D printers can print an entire new 3D world, they are generating new surfaces, large or small, for AP Lazers to engrave." Although 3D printing is generating excitement in the media, 2D laser engraving has a significantly wider range of applications, and thereby a much larger market potential.
Featured Product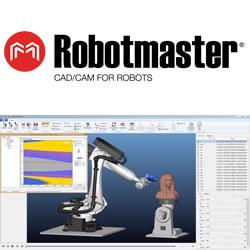 Since Robotmaster V7 uses integrated CAD/CAM functionality, for the first time, the power of Robotmaster can be used by welding, cutting and other process experts without buying or learning complex CAD/CAM software. As in past versions, Robotmaster V7 imports paths, but now makes it even easier for end users to leverage any CAD/CAM tool choice. It is an intuitive tool that anyone could use, with or without robotics expertise. It bridges the gap between robots and manufacturing by providing easy programming solutions for part manufacturing.