Forecast 3D, a Carlsbad, California based 3D printing and short-run manufacturing service provider, is pleased to announce the addition of 5500 sq. ft. to their Carlsbad headquarters. With the expansion, Forecast 3D now has 42,500 square feet of manufacturing space, allowing them to greatly increase their Additive Manufacturing (3D printing) services offered in house with brand new machines and materials.
Carlsbad, CA October 14, 2014

Forecast 3D has provided 3D printing, rapid prototyping, and short-run manufacturing services since 1994, and this month's expansion significantly increases Forecast 3D's capacity and allows them to keep up with the major growth experienced over the past twenty years. The additional 5500 sq. ft. building will now serve as the new home of their CNC Machining department, opening up a vast amount of space in the main manufacturing facility for new equipment. This expansion allows Forecast to broaden their 3D printing technologies offered to mechanical engineers, research and development teams, designers and inventors alike.
Now, in addition to offering Stereolithography (SLA), Fused Deposition Modeling (FDM), PolyJET high precision color 3D printing, CNC Machining, and RTV tooling in house, Forecast 3D plans to broaden their technologies with several new industrial 3D printers to add to their arsenal of additive manufacturing machines, as well as expand other big picture aspects for the company.
"This expansion is going to allow us to focus on the growth of our manufacturing and quality processes in advance of our ISO 9001 certification in the first quarter of next year," stated Larry Tinker, Forecast 3D's General Manager.
"We focus on quick-turn prototype work in both our additive manufacturing capabilities as well as our subtractive CNC milling," added Donovan Weber, COO and co-founder of Forecast 3D. "Our customers appreciate that we keep our focus on prototype and short-runs as our niche, as well as our focus on craftsmanship and customer service. We are excited to continue to grow our operation organically."
Furthermore, the team looks forward to the impact this expansion will have on internal operations.
"Recent expansion of our CNC department will allow us to respond even more aggressively to the quick-turn prototype needs of our customers. With increased capacity we can provide fast, accurate and affordable solutions for our customers," stated Aerospace Project Engineer Mark Whitley.
Those interested in learning more about Forecast 3D's additive manufacturing and subtractive CNC services can visit http://www.forecast3d.com or submit a 3D CAD file design to https://dashboard.forecast3d.com to get started on a new project.
About Forecast 3D
Forecast 3D (http://www.forecast3d.com) has been in the 3D Printing and short-run manufacturing space for 20 years and was recently voted by their employees as one of the 10 Best Places to Work in the US & Canada in Plastics News. Known for their quality of service and craftsmanship, Forecast 3D offers a diverse range of 3D printing technologies with SLA (Stereolithography), FDM (Fused Deposition Modeling), DMLS (Direct Metal Laser Sintering), PolyJET high-precision 3D printing, and CNC Machining, as well as being a leader in RTV Tooling operations.
Featured Product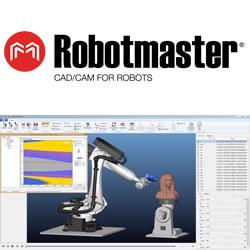 Since Robotmaster V7 uses integrated CAD/CAM functionality, for the first time, the power of Robotmaster can be used by welding, cutting and other process experts without buying or learning complex CAD/CAM software. As in past versions, Robotmaster V7 imports paths, but now makes it even easier for end users to leverage any CAD/CAM tool choice. It is an intuitive tool that anyone could use, with or without robotics expertise. It bridges the gap between robots and manufacturing by providing easy programming solutions for part manufacturing.