Special Effects Guru to Advise Company on Strategic Development
PACK EXPO

MONEE, Ill.--Jamie Hyneman president of M5 Industries and a leader in the design and testing of innovative tools that advance popular understanding of science and technology, is joining Bimba Manufacturing, the industry-leading innovator of actuation technology. Their affiliation will be officially announced during a press conference at 10:00 a.m. Tuesday, November 4 at PACK EXPO International, Room S405B, McCormick Place, Chicago.
Hyneman is best known for his work on the popular cable television program "MythBusters," but he has also been very active designing and prototyping a variety of innovative robotics platforms and will serve Bimba as Director of Strategic Development. In this role he will consult and collaborate on strategic initiatives that are key to the fluid power industrys future.
As president of world-renowned special effects company M5, Hyneman has supervised the animatronics and robotics for hundreds of commercials and feature films. Hyneman said, "For me, there is nothing as exciting as a good problem to solve. Working with the team at Bimba, well have opportunities to combine theoretical possibilities with practical solutions."
Hyneman is enthusiastic about the opportunity to work with Bimba. "I have been applying Bimba products for decades," he declared. "The functionality and durability of these products are unmatched. I have also come to realize that Bimbas great products could never have been developed without the support of a dedicated team of brilliant engineers and researchers with backgrounds in such fields as chemistry, mechanical engineering and electrical engineering, which is the kind of diversity I rely on myself when developing projects. As we move forward, I intend to work closely with Bimbas experts, to come up with ideas for new components and subject them to rigorous tests to validate them."
Kent Sowatzke, Bimbas Chief Operating & Engineering Officer, said, "We are proud to announce our partnership with Jamie Hyneman. He is one of the worlds most innovative thinkers, a frequent lecturer at Stanford University and whose honorary degrees from the College of Engineering at Villanova University and Twente University in The Netherlands recognize him for his achievements in science and technology. We will also collaborate with Jamie to educate the next generation of scientists and engineers, and to develop concepts and products that will make the world healthier, safer and more efficient."
About Bimba
Bimba Manufacturing is a forward-thinking innovator of actuation technology, specializing in providing cutting-edge solutions to engineering challenges. Including its brands TRD, Mead, MFD, Pheumadyne and Acro, Bimba markets an extensive line of industry-leading products including pneumatic, hydraulic, and electric actuators; valves; fittings; air preparation and a variety of safety and production solutions. In addition to its broad line of standard catalog products, the companys business develops many custom and semi-custom products designed for specific customers and applications. These products, used in machinery and automation, are sold to original equipment manufacturers and end-users throughout the world in an expanding variety of industries.
Featured Product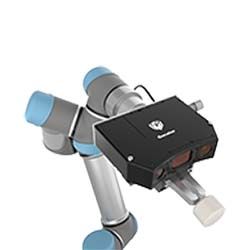 The Gocator 2000 family of laser displacement sensors makes 3D measurement a snap to setup and operate. These class of sensors deliver flexibility, performance, and immediate value right out of the box. Every Gocator comes with a built-in web application to deliver an exceptional user experience - no additional software required. Go from the simplified connection, to configuration, to measurement within minutes! Almost immediately you will be able to measure 3D features like width, thickness, and angle in order to precisely monitor your production. With a variety of standoff and measurement ranges, there's a Gocator sensor to fit almost every application. Your experience with displacement sensors will never be the same again.