HLH Prototypes in China creates rapid injection molds for prototype modeling. Their quality and low cost has made them one of the leading rapid injection molding companies in the industry. Along with the most advanced rapid prototyping equipment, they utilize high speed CNC machining to realize injection mold tools in unbelievable lead times.
Shenzhen, China November 25, 2014

HLH Prototypes, providing rapid prototype injection molding services in China is known for its high precision, speed and finest quality. They make the finest quality plastic parts using rapid plastic molding services from their ISO accredited facilities in China. The prototype injection molding process is cost effective with fast delivery or real parts in real materials.
"HLH Prototypes uses a trademarked CNC machining process to allow us to manufacture real injection mold tools used for producing real parts in thermoplastics using injection molding," says Jack Cheng HLHs rapid tooling manager. Their recent investment in equipment has greatly enhanced the speed of delivery of their prototype tooling manufactured products. They work with their clients to realize parts from all manner of industries including consumer electronics, household, medical and automotive parts.
To ensure the lowest possible cost, the plastic molding services are provided HLH Prototypes are tailored to the rapid/prototyping tooling requirements. The quality is high and the delivery is super quick.
"HLH Prototypes is taking advantage of automated methods of machining and rapid prototyping services in China to improve speed and quality of product," Jack said. With recent investments in equipment like $60,000 for an Oxford instruments PMI master pro, HLH Prototypes has greatly improved their rapid prototyping QC process.
HLH Prototypes will be attending many events in 2015 to showcase the advancement in their services. In March 2015 they will attend the TCT Show + Personalized which the leading event dedicated to 3D printing, additive manufacturing and product development. In June 2015, they will be exhibiting at the Big M show at the Cobo Center in Detroit, MI in the United States. The Big M Event showcases breakthrough technologies and applications that will sustain and grow leadership for mass manufacturing. Later in the year in October they will be in the UK for the TCT + Personalized show also dedicated to the 3D printing, additive manufacturing and product development. When it comes to rapid injection molding services, they have few competitors.
About The Company:
HLH Prototypes has years of engineering expertise to become a leader provider of CNC machining, additive manufacturing/3D printing, rapid prototyping, injection molding, plastic molding and rapid tooling services. They have recently invested in $60,000 piece of equipment to advance the level of services they provide, specifically the Oxford instruments PMI master pro. Their clients are large and small companies from around the world for all their machining, prototyping and contract manufacturing. For rapid prototype service in China, HLH Prototypes stands in forefront.
Featured Product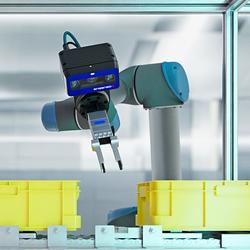 App Your Sensor®! What would smartphones be without apps? They would be mobile phones that can't do much more than make phone calls and sending SMS. Apps turn smartphones into intelligent assistants with any number of different tasks. Transferred into the world of image processing, this app-based approach transforms cameras and sensors into customised, smart vision sensors.