Normal is one of the first companies to use additive manufacturing for large-scale customization, allowing customized earphones in as little as 48 hours
Minneapolis & Rehovot, Israel - Jan. 21, 2015 - Stratasys Ltd. (Nasdaq:SSYS), a leading global provider of 3D printing and additive manufacturing solutions, announced that custom earphone maker Normal is using Stratasys 3D Printers for mass customization of a consumer product.

Ordered through a free mobile app or from Normals flagship in New York City, Normal earphones are customized to fit each users ear, 3D printed, and typically shipped and delivered anywhere in the U.S. in as little as 48 hours. The company currently operates 10 Stratasys Fortus 250mc 3D Printers, manufacturing custom parts for the earphones using FDM 3D Printing Technology.
"Were excited to be able to create accessible, tailor-made earphones that sound incredible," explained Normals Founder and CEO Nikki Kaufman. "Were using Stratasys 3D printing technology to build a product that is completely personalized."
Each pair of earphones is engineered, 3D printed, assembled and shipped at Normals flagship, which serves as their factory, headquarters and retail store. With 10 Stratasys 3D Printers lining the perimeter of the space, and a fully exposed assembly process, Normal encourages auditory, tactile and visual exploration of how Normal earphones or "Normals" are sculpted and built.
The alternative option for custom earphones involves a health care professional, silicon molds, several weeks waiting and a product that costs up to thousands of dollars. Using 3D printing, Normal is able to provide premium, custom-fitting earphones at a more accessible price and process. The 3D printed part of the earphones is made with ABSplus thermoplastic and available in seven custom colors. Normal currently sells the earphones in the U.S. for $199, including tax, shipping and a personalized carrying case.
"The implications of 3D printing for a company like Normal are huge. Its a game-changer for customized goods: the ushering in of a new era in manufacturing," said Stratasys Vice President of Marketing, Bruce Bradshaw. "Today, companies can offer consumers customized products, in a time-efficient manner, made possible with 3D printing."
To learn more about the capabilities of Stratasys Fortus 250mc 3D Printers, visit the product page. For more information about the 3D-printed, customized earphones, visit Normals website.
Stratasys Ltd. (Nasdaq:SSYS), headquartered in Minneapolis, Minnesota and Rehovot, Israel, is a leading global provider of 3D printing and additive manufacturing solutions. The company's patented FDM®, PolyJet™, and WDM™ 3D Printing technologies produce prototypes and manufactured goods directly from 3D CAD files or other 3D content. Systems include 3D printers for idea development, prototyping and direct digital manufacturing. Stratasys subsidiaries include MakerBot and Solidscape, and the company operates the digital parts manufacturing service, Stratasys Direct Manufacturing. Stratasys has more than 2,800 employees, holds over 600 granted or pending additive manufacturing patents globally, and has received more than 25 awards for its technology and leadership. Online at: www.stratasys.com or http://blog.stratasys.com
Featured Product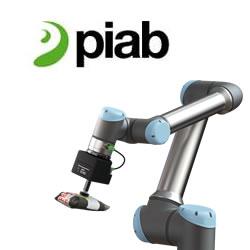 Piab's Kenos KCS gripper enables a collaborative robot to handle just about anything at any time. Combining Piab's proprietary air-driven COAX vacuum technology with an easily replaceable technical foam that molds itself around any surface or shape, the gripper can be used to safely grip, lift and handle any object. Standard interface (ISO) adapters enable the whole unit to be attached to any cobot type on the market with a body made in a lightweight 3D printed material. Approved by Universal Robots as a UR+ end effector.