Developing machine vision applications without any knowledge of programming Machine vision for new user groups
Munich, March 5, 2015 - MVTec Software GmbH (www.mvtec.com), a leading manufacturer of standard machine vision software, has announced the release date for MERLIC, its new machine vision software. Starting from June 1, 2015, users will be able to create machine vision solutions quickly without any knowledge of imaging technology and without writing a single line of code. MVTec previously presented the prototype at AUTOMATICA and VISION 2014. From June onwards, MERLIC will be officially available in Austria, Canada, China, France, Germany, Japan, Switzerland, Taiwan, Thailand and the United States. More regions will follow in 2016. The software will be available in simplified and traditional Chinese, English, French, German, Japanese and Thai. MVTec will demonstrate an interactive live version of MERLIC in Hall 17, Booth B15 at the Hannover Messe trade show (April 13 to 17, 2015).

The special feature of the PC-based complete solution is its image-centric user interface, which intuitively guides the user through the application. Similar to a what-you-see-is-what-you-get editor (WYSIWYG), developers can focus on the image-based display rather on complex lines of code or parameter lists. MERLIC thus aims at companies that prefer a clear, graphical user interface for configuring their imaging software. However, professional developers will also benefit from the tool which allows them to significantly speed up their development processes and implement standard projects with much less effort.
Seamlessly integrated programmable control connection
Full integration, including digital I/O and the OPC-UA standard, means that the software supports the entire process, from acquiring and processing images to the programmable control (PLC) of the machine. As a stand-alone software package, MERLIC therefore goes beyond mere imaging and facilitates access to all elements of the MV peripherals as well as a seamless PLC connection. The integrated MERLIC Designer is another practical feature, which provides a wide range of widgets for designing a graphical user front end (GUI) in just a few steps. The individual widgets can be interactively dragged and dropped into the interface and automatically linked to the parameters of the MERLIC tools. The corresponding values can then be used for visualization and interactive parameter configuration in the front end.
The software also has a sophisticated alignment tool, which optimizes the alignment of an object so that it can be precisely measured. The ideal position only needs to be defined in MERLIC in order to automatically and precisely align the object. The innovative "easyTouch" concept also makes it much easier to create the machine vision applications. Simply by moving the mouse pointer over an image, for example, objects to be identified can be detected, marked and selected by clicking on them. Not least, MERLIC can be customized with added features: the integrated tool library contains a wide range of tools for standard tasks, which can be flexibly expanded by adding individual, user-defined tools.
Imaging made easy
"With MERLIC, entirely new user groups will benefit from the advantages of machine vision. While the creation of such applications used to be the domain of professional programmers, machine vision novices will also be able to handle these types of tasks in the future - with a clear, easy-to-understand and image-based user interface. This will save companies a great deal of time, effort and money in creating machine vision applications," says Thorsten Daus, MERLIC product manager with MVTec.
Images and captions for the press release can be found at http://www.mvtec.com/en/news-press/article/detail/mvtec-announces-date-for-merlic-release/
For more information on MERLIC, please visit www.merlic.com
About MERLIC
MERLIC is an all-in-one software product for quickly building machine vision applications without any need for programming. It is based on MVTec's extensive machine vision expertise and combines reliable, fast performance with ease of use. An image-centered user interface and intuitive interaction concepts like "easyTouch" provide an efficient workflow, which leads to time and cost savings. MERLIC provides tools to design and build complete machine vision applications with a graphical user interface, integrated PLC communication and image acquisition based on industry standards. All standard machine vision tools such as calibration, alignment, measuring, counting, checking, reading, position determination, and defect detection are included in MERLIC. www.merlic.com
About MVTec
MVTec is a leading manufacturer of standard software for machine vision. MVTec products are used in all demanding areas of imaging: Semi-conductor industry, web inspection, quality control and inspection applications in general, medicine, 3D vision and surveillance. MVTec, with its head office in Munich (Germany), has more than 30 established distributors worldwide and in addition, MVTec, LLC works out of Boston, MA (USA). www.mvtec.com
Featured Product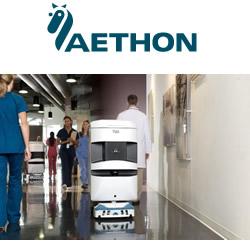 TUG automatically picks up and drops off carts, eliminating the labor that would otherwise be needed to load the robot. It also communicates with your IT system to automate the dispatching of the robot fleet and update the inventory system when materials are moved.