Event to Focus on the Next Generation of Transportation, Drones and Fleet Solutions
NORWALK, Conn.--TMC and Crossfire Media announced today that the Connected Transportation Conference will launch August 17-20, 2015 at Caesars Palace in Las Vegas. The conference, collocated with IoT Evolution Conference & Expo, focuses on the improvements in todays vehicle and fleet management services and provides perspective on market forces, revenue opportunities and technical issues. A significant portion of the content in this event will cover drones and applications in film making, agriculture, construction, oil and gas.

"It's exciting to look at how connectivity is changing the way we move. From drones for delivery to drivers being turned into passengers we are heading to major shifts in how things move. IoT Evolution Connected Transportation takes a look at logistics and the technologies "driving" our innovation today whether on the ground or in the air with Unmanned Aerial Vehicles [UAV] a.k.a drones. While the trends are clear, the road to the future is full of new opportunities that this conference will give us the signs of whats immediately ahead," said Carl Ford, CEO of Crossfire Media and Executive Director of Content for IoT Evolution Conference & Expo.
Connected Transportation Conference Topics include:
* Self Parking Vehicles
* Analytics
* Pay as you Drive - Opportunities in the Insurance Industry
* Impact of Connectivity on Repair and Diagnostics and Fleet Optimization
* New Business Models
* Share a Ride/Car
* Drivers Ed for the Car of the Future
* Infotainment on the Dash
* Insurance Impacts of Big Automotive Data
* Smart Phone vs. Your Smart Car
* Its All About location Maps and Marketing
* Renewables and Refueling
* Securing the Ride and the Rider
* Apps and Entertainment Platforms
* Radios and Real-time Monitoring
Drone applications, technology and regulations across all verticals including;
* Agriculture
* Transportation and Delivery
* Cinematography, Photography
* News reporting and Media
* Construction
* Environmental Services
* Advertising and More
* Security and Surveillance
Registration for the Connected Transportation Conference is now open. For more information, contact Frank Coppola at 203-852-6800 x131. For media registration, contact Sarah T. Fullilove.
Companies interested in exhibiting, sponsorship or advertising packages should contact Matthew Gleeson at 203.852.6800 ext. 145.
For the latest Connected Transportation Conference news, updates and information, follow the event on Twitter at @iottransport.
About TMC
TMC is a global, integrated media company that supports clients' goals by building communities in print, online, and face to face. TMC publishes multiple magazines including Cloud Computing, IoT Evolution, Customer, and Internet Telephony. TMCnet is the leading source of news and articles for the communications and technology industries, and is read by 1.5 million unique visitors monthly. TMC produces a variety of trade events, including ITEXPO, the world's leading business technology event, as well as industry events: 2015 Connecticut Mobile Summit; Asterisk World; AstriCon; ChannelVision (CVx) Expo; DevCon5 - HTML5 & Mobile App Developer Conference; Drone Zone 360; IoT Evolution Conference & Expo; IoT Evolution Developers Conference; IoT Evolution Fog, Analytics & Data Conference; IoT Evolution Connected Transportation Conference; IoT Evolution Connected Home & Building Conference; SmartVoice Conference; SIP Trunking, Unified Communications & WebRTC Seminars; Wearable Tech Conference & Expo featuring Fitness and Sports Wearable Technology (FAST) Expo; WebRTC Conference & Expo; and more. Visit TMC Events for additional information.
About Crossfire Media
Crossfire Media is an integrated marketing company with a core focus on future trends in technology. We service communities of interest with conferences, tradeshows, webinars and newsletters. Crossfire Media has a partnership with Technology Marketing Corporation (TMC) to produce events and websites related to disruptive technologies. Crossfire Media is a division of Crossfire Consulting, a full service Information Technology company based in New York.
Featured Product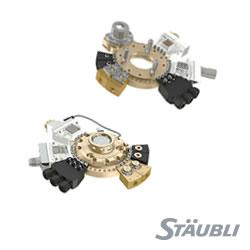 Stäubli is a pioneer in the construction and development of robotic tool changing systems. Our customers benefit from our many years of expertise in all industry sectors, as well as our modular product concept, which offers three efficient solution paths: MPS COMPLETE offers preconfigured robotic tool changers for immediate use. MPS MODULAR allows the user to determine the configuration, while MPS CUSTOMIZED allows the construction of special, application-specific systems.