DoD-funded project will address issues in modeling behavior of materials.
Clifton Park, NY May 05, 2015

Kitware announced Department of Defense (DoD) funding today to develop an open-source, distributed computational environment for virtual materials exploration to address a pressing need in the manufacturing community. Currently, manufacturers that heavily leverage advanced materials engineering are limited in their abilities to efficiently and inexpensively design precision parts. As a result, there is a great need for new paradigms in structural design that leverage best-of-breed tools from finite element analysis and materials simulation codes.
"There now exist simulation codes that are able to predict materials properties with increasing levels of accuracy," Marcus Hanwell, the project's Principal Investigator and a Technical Leader on Kitware's Scientific Computing team, said. "Adopting more advanced materials simulation would ultimately enable the structural design process to drive materials requirements, with the possibility of real-time materials exploration, composite design, and/or processing options that could be adjusted alongside conventional optimization strategies such as varying shape to accommodate load/rigidity requirements."
The open-source framework will enable designers to move beyond materials as fixed design inputs to active variables that can be manipulated as part of the structural design process. This has the potential to result in a paradigm shift from whole-part design based on standard material properties tables to the use of actual variables in dynamic, active material design. The framework will also allow designers to explore materials and compositions in real time and to adjust parameters to accommodate specific requirements.
"Once designers begin to incorporate advanced materials models, it becomes possible to tailor designs to increase longevity or reduce the weight of a part without compromising structural integrity," Hanwell said. "For example, advanced designs might specify advanced materials processing techniques such as heat treatments in specific regions to increase local performance without the added cost of manufacturing the entire part out of an expensive material."
To advance materials simulation, Kitware's experts in finite element modeling (FEM) and finite element analysis (FEA) will research and prototype a multiscale simulation environment that integrates advanced materials models with a classical finite element analysis system for modeling complex systems. For this Phase I SBIR project funded by the DoD, the team will investigate different approaches using software as a rapid prototyping/research tool to critically assess the benefits and costs of each approach.
To learn more about Kitware's HPC and visualization expertise and how it can be used to your organization's advantage, please contact kitware(at)kitware(dot)com.
This material is based upon work supported by the United States Air Force under Award Number FA8650-14-M-5044.
About Kitware
Kitware is an advanced technology, research, and open-source solutions provider for research facilities, government institutions, and corporations worldwide. Founded in 1998, Kitware specializes in research and development in the areas of HPC and visualization, medical imaging, computer vision, data and analytics, and quality software process. Among its services, Kitware offers consulting and support for high-quality software solutions. Kitware is headquartered in Clifton Park, NY, with offices in Carrboro, NC; Santa Fe, NM; and Lyon, France. More information can be found on http://www.kitware.com.
Featured Product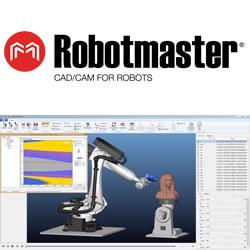 Since Robotmaster V7 uses integrated CAD/CAM functionality, for the first time, the power of Robotmaster can be used by welding, cutting and other process experts without buying or learning complex CAD/CAM software. As in past versions, Robotmaster V7 imports paths, but now makes it even easier for end users to leverage any CAD/CAM tool choice. It is an intuitive tool that anyone could use, with or without robotics expertise. It bridges the gap between robots and manufacturing by providing easy programming solutions for part manufacturing.