3D Printing and Short-Run Manufacturing service provider Forecast 3D is excited to announce that they will be exhibiting at RAPID next week, with the championship winning Harbinger race car that displays over 45 functioning parts built utilizing Forecast 3D's additive manufacturing technologies.
Carlsbad, CA May 13, 2015

For over 20 years, Forecast 3D has been providing the latest additive manufacturing, 3D printing, and short-run manufacturing services to engineers all over North America. Next week, the team looks forward to unveiling a major project that utilized nearly all seven of Forecast 3D's additive technologies - the Harbinger; an all new, custom built race car based on a 1969 Mustang. This race car - which boasts over 45 fully functional parts built with additive manufacturing - is truly unique and demonstrates the realm of possibilities of 3D printing. The Forecast 3D team and race car can be seen next week in Long Beach at RAPID, known as "the preeminent event for 3D printing, scanning, and additive manufacturing."
Forecast 3D will be exhibiting at the leading additive manufacturing industry show RAPID next week, Tuesday, May 19th through Thursday, May 21st at the Long Beach Convention Center in Booth #749. Being at the forefront of product development for over 20 years, the team brings a continuous array of amazing designs to life each day, and the Harbinger, which was built for race car manufacturer Agent 47 Competition Products, is a project that Forecast 3D is especially excited to reveal at RAPID.
"Working with Agent 47 on the Harbinger project has been very enjoyable and rewarding to all of us at Forecast 3D. Motorsports has always been a hobby of mine, so to be involved on a project of this scale and to see what can be done with Additive and ProCAST RTV in the custom and race car building business… to say its exciting is a gross understatement. I believe this is the tip of the iceberg as more and more custom and specialty vehicle shops embrace these technologies," stated Corey Weber, President and CEO of Forecast 3D
Agent 47 Competition Products needed a multitude of durable, lightweight, high heat resistant, and attractive parts for its new Harbinger Mustang. The team utilized Forecast 3D's SLA (Stereolithography), Fortus FDM (Fused Deposition Modeling), DMLS (Direct Metal Laser Sintering), ProCAST (RTV Casting / Short-Run Manufacturing), and CNC Machining services to prototype over 45 parts throughout the vehicle. Agent 47 was able to get parts quickly and inexpensively in thermoset production plastics, with a variety of properties and cast in colors and textures. The combination of technologies, materials, and finishes enabled design verification, long term end-use testing, and most importantly high level racing. The Harbinger and its parts were tested through an entire grueling season of NASAs American Iron race series culminating in the 2014 National Championship at Sonoma Raceway.
Those interested in joining Forecast 3D at Rapid can use code 10074525 for free registration: http://www.rapid3devent.com/. To schedule a client meeting or project review during the show, email info@forecast3d.com or visit Booth #749. Those interested in learning more about Forecast 3D's additive manufacturing services can visit http://www.forecast3d.com or submit a 3D CAD file design to https://dashboard.forecast3d.com to get started on a new project.
About Forecast 3D
Forecast 3D (http://www.forecast3d.com) has been in the 3D Printing and short-run manufacturing space for 20 years and was recently voted by their employees as one of the 10 Best Places to Work in the US & Canada in Plastics News. Known for their quality of service and craftsmanship, Forecast 3D offers a diverse range of 3D printing technologies with SLA (Stereolithography), FDM (Fused Deposition Modeling), DMLS (Direct Metal Laser Sintering), PolyJET high-precision 3D printing, and CNC Machining, as well as being a leader in RTV Tooling operations.
Featured Product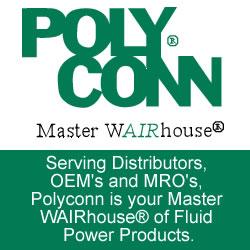 We can produce pneumatic hose and other pneumatic products to match your exact specifications. Our proficient engineering and quality management, coupled with outstanding customer service means Polyconn delivers high quality pneumatic components at competitive prices. Place your order or contact Polyconn for more information on our pneumatic hoses, pneumatic manifolds, Duratec® Pipe or any of our other top quality pneumatic products and components.