30th Anniversary event will showcase more than 200 cutting-edge sensor applications.
Newton, MA May 27, 2015

At the 2015 Sensors Expo & Conference in Long Beach, California next month over 200 of the sensor markets most innovative companies will be on hand to showcase cutting-edge sensor technology. From Energy Harvesting to MEMS, Position to Pressure, Wearables to the Internet of Things (IoT), Optical Sensing to Wireless Applications, attendees will have a front row seat to the sensing technologies driving tomorrows solutions. Featured exhibitors include industry innovators such as Arrow, B+B SmartWorx, B-Scada, Freescale Semiconductor, and Mouser Electronics.
Quick Links:
* Registration: http://www.sensorsexpo.com/register
* Education: http://www.sensorsexpo.com/education
* Exhibitor List: http://www.sensorsexpo.com/exhibit
Hosted June 10-11 at the Long Beach Convention Center with a Pre-Conference Symposia on June 9, the 2015 Sensors Expo & Conference will bring together the industrys foremost engineers, scientists, and innovators involved in the development and deployment of sensor systems. As the premier event for sensor-related technology, this years show will feature 20 percent more exhibitors including first time participants GE Measurement & Control Systems and Infineon.
Some of the exciting exhibits will include:
* Ever wonder about the technology that enables a car to drive itself? Longtime sensor market pioneer Arrow will feature their innovative SAM car (semi-autonomous car) on the show floor. Visit them at booth #729 to see the innovation in action.
* Watch drones take flight! Terosaur will be showcasing their UAVs, flight simulators, and Rapid Fabrication equipment including 3D printers during the event at booth #700.
* Featuring more than 120 demos from the smallest micros to complex network infrastructure, the innovative Freescale IoT Truck will make a stop at Sensors 2015. A high-end truck trailer transformed offers attendees the chance to interact with some of the latest sensor advancements including data aggregators, ADAS, wearables, telepresence robots, myoelectric gesture recognition tech and more.
* Sensors Magazine will also host a "Live Theater" offering free education for all attendees on the Expo floor. To see the schedule of events and the topics to be discussed visit: http://www.sensorsexpo.com/sensors-magazine-live-theater-schedule.
To see more Expo Floor Highlights, visit http://www.sensorsexpo.com/whats-happening-sensors-2015
"As a leader in the Internet of Things, Freescale looks forward to bringing our Internet of Tomorrow Tour to the 2015 Sensors Expo & Conference," said Iain Galloway, technology strategist for Freescale marketing. "From automotive to networking applications, smart energy to smart homes, there is so much innovation happening in the sensor market and we are pleased to have the opportunity to showcase our latest solutions at the industry's premier event dedicated to sensors and sensor-integrated systems."
"The sensor market is exploding as companies seek to leverage innovative sensor technology to improve their products and expand their capabilities. With the industrys largest showcase of sensor-related technology, next months event will give attendees the ability to see firsthand just how powerful these innovations can be and the impact they can have on their business and the industry at large," said Mat Dirjish, Executive Editor, Sensors Magazine, official publication of the event.
To join the growing roster of exhibitors and gain the opportunity to interact with thousands of qualified engineers contact Cal Groton at cgroton(at)questex(dot)com or Joe Zuccerella at jzuccerella(at)questex(dot)com. To register to attend, visit http://www.sensorsexpo.com/register.
About Sensors Expo & Conference
Sensors Expo & Conference is widely known as one of the world's largest and most important gatherings of engineers and scientists involved in the development and deployment of sensor systems. The Sensors Expo & Conference is produced and managed by Questex LLC, a global, diversified business-to-business integrated media and information provider, headquartered in Newton, MA.
Featured Product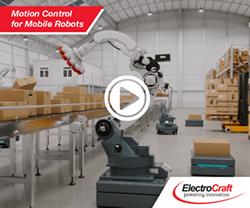 ElectroCraft is showcasing its award-winning mobile robot technology including their powerful and compact wheel drives, high-torque-density brushless DC motors, precision linear actuators as well as servo motor drive technology at a variety of conferences and tradeshows including the Boston Robotics Summit. Robotics Summit is the premier symposium for the sharing of ideas, technology, and market developments for robotic technologies across industries. Beyond a showcase and pitch of product, ElectroCraft is eager to participate in the collaborative discussion of challenges and opportunities that will shape the near and long-term robotic marketplace.