UBM Canon Provides Entertaining Activities Around Latest Innovations to Spice Up the Expo Hall
SANTA MONICA, Calif., May 27, 2015 -- MD&M East and its co-located trade events, EastPack, Atlantic Design & Manufacturing, ATX East, PLASTEC East, Quality Expo, and HBA Global, will be at Jacob K. Javits Convention Center in New York City, June 9-11, 2015. Event producer UBM Canon will provide entertainment and fun to add even more value for visitors attending the largest advanced design and manufacturing event on the East Coast.

Center Stage
The Center Stage, booth 2279, free to all attendees, offers a comprehensive schedule of serious talks, such as 10 Ways Innovation, Design, Demographics, and Global Trends will Affect Healthcare in 10 years; and How to Avoid Common Design Mistakes in Prototyping. But interspersed between the serious content on Tuesday, June 9, the show goes all out with the presentation of the 3D Materials Girl of NYC (everything she wears is 3D printed) and a 3D printed drone.
On Wednesday, June 10, Professor Pythagoras will conduct an engineering trivia game, "Do You Science?" (The Professor, aka Marcus Kincaid, is an Applications Engineer with Nordson Medical.)
There are also product teardowns on Wednesday and Thursday on the Center Stage for incurable geeks.
For those looking to expand their network, there will be two Speed Networking events, offering a fun, structured environment for meeting like-minded professionals.
For more technical presentations, attendees can visit the Tech Theater at Booth 730 on the show floor, also free to all attendees. Presenting companies include: Toxikon Corporation, Nelson Laboratories, CI Medical Technologies, Sciessent, and CADD Edge.
So no one gets lost - Innovation Tours
Guided Innovation Tours will depart from the Center Stage, with different topics each day. Tours will be led by experts, who will point out the latest technology and industry trends across the expo hall. Tuesday's tour will focus on robotics, Wednesday's tours will investigate 3D printing as well as digital health, and Thursday's tour will feature innovative suppliers and attendees can vote for the most innovative booth at the show.
Still on the more serious side
There will be hundreds of exhibitors showcasing their new products, technologies, and services. In addition, there is a full slate of conference sessions:
3-Day MD&M East Conference
3-Day HBA Global Conference
2-Day Pharmapack North America Conference
2-Day Integrated Quality Management Course (In collaboration with ASQ)
1-Day Industrial Automation: Advancing the Smart Plant
1-Day Innovations in 3D Printing Conference
Exclusive Networking & Drinks Reception for Conference Attendees and Speakers! Wednesday, June 10 at 4:00pm (The conference delegates are in for some fun too.)
And upstairs
On Tuesday and Wednesday, in the River Pavilion, upstairs from the main expo hall, Pharmapack North America, will feature the very latest in pharma packaging and drug delivery systems.
Exhibitors get in on the fun
MD&M Exhibitor Eastman Chemical Company will turn booth 2180 into a batting cage, where attendees can take a mighty swing at a plastic mug, to see if they can break it.
On Tuesday afternoon, the show will host its first ever Booth Crawl. Attendees will move from booth to booth to meet exhibitors and enjoy light food and drinks—all from the convenience of the show floor.
For an exciting awards ceremony
Tuesday afternoon at 4 pm, the ceremony for the Medical Design Excellence Award, (MDEA) will take place in Room 1E15 - 17 of the Javits Convention Center. John Abele, Boston Scientific Cofounder will be honored with this year's Lifetime Achievement Award, and the winners of the 2015 MDEA awards will be announced.
About UBM Canon
UBM Canon is the leading B-to-B event producer, publisher, and digital media company for the world's $3 trillion advanced, technology-based manufacturing industry. Our print and electronic products deliver trusted information to the advanced manufacturing market and leverage our proprietary 1.3 million name database to connect suppliers with buyers and purchase influencers. We produce more than 50 events and conferences in a dozen countries, connecting manufacturing professionals from around the globe. UBM Canon is part of UBM plc (UBM.L) a global provider of media and information services for professional B-to-B communities and markets.
Featured Product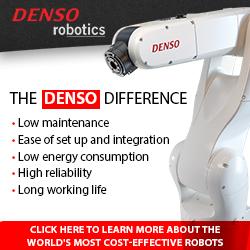 DENSO is the world's largest manufacturer - and user - of small assembly robots, employing over 17,000 of its robots in its own facilities. Over 77,000 additional DENSO robots are used by other companies worldwide. The compact, high-speed robots are used in traditional manufacturing sectors, as well as in advanced-technology applications in the medical, pharmaceutical and life sciences industries. Learn more about DENSO Robotics