High performance, gold or fiber optic contact to ensure reliable data transfer, flexible design, industry robot, can be used in every industry.
Slip ring is a precision connectors which allows signal and power transfer from rotating interface,it is apply in a variety of industry, the typical applications include camera systems, robotics, packaging machines, medical equipment and a wide range of automation systems, and the through bore slip ring is one of the best seller in this slip ring.

The STR series slip ring also known as through hole slip ring or hollow shaft. The size of this series was very flexible, the hole can be from 12.7 mm from 300 mm, and the circuits can be top to 120 circuit. In addition, this slip ring available in many of options, it can be combine with power, signal, frequency signal, fiber, Ethernet, USB, Profibus, interbus, Profinet and canopen data transmission, its multi-function was very useful for us, especially for automation industry. For example, now we want a device can be transfer signal, power and gas in synchronized, it is easy, our pneumatic-electric slip ring can be done, we can integrate the slip ring into a rotary joint, also if we want to transfer power and Ethernet data, it is easy, we called it as Ethernet slip ring.
The contact of this series slip can be gold, fiber optic, if we need to transfer high frequency data, it must be via fiber optic, it is also a new tech in slip ring industry.
More information, please visit our website and contact us www.arslipring.com
Featured Product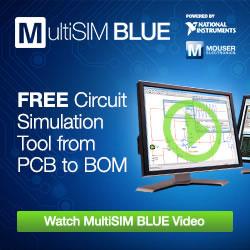 Powered by NI, MultiSIM BLUE Upgrade includes schematic capture, simulation, PCB layout, BOM-to-cart capabilities using only one tool. No more switching between different programs for circuit design. Perform MCU co-simulation. New voltage, current and power probes as well as faster active analysis mode are also available. Plus, it even comes with an expansive database of new components from industry-leading manufacturers. Discover why EDN named MultiSIM BLUE a HOT 100 Product of the Year.