Technical college adds additive manufacturing certificate program
Minneapolis & Rehovot, Israel - June 24, 2015 - Stratasys Ltd. (Nasdaq:SSYS), a leading global provider of 3D printing and additive manufacturing solutions, has teamed up with Dunwoody College of Technology as it incorporates additive manufacturing into its curriculum.

Dunwoody College of Technology, located in Minneapolis, has been on the forefront of manufacturing education for over 100 years. Because additive manufacturing is becoming a more mainstream technique, Dunwoody decided to increase emphasis on it in its program.
"I see additive manufacturing as an essential partner to the traditional manufacturing process," says E.J. Daigle, the Dean of the schools Robotics and Manufacturing Department. "Not only do we want to give our students the tools to intertwine both, but we saw a need for businesses in the industry to further their education. Stratasys has been the ideal partner for the development of our courses and curriculum."
Dunwoody uses a Fortus 400mc and two Fortus 250mc 3D Production Systems as teaching tools in its program. By collaborating with Stratasys, Dunwoody will expand its curriculum and offer a certificate program for students and professionals around the country.
"The partnership allows Stratasys to collaborate with Dunwoodys talented instructors who have years of experience in manufacturing technology," says Stratasys Education Manager, Jesse Roitenberg. "Manufacturers are in need of a trained and talented workforce that is up-to-date on how additive manufacturing can enhance traditional processes, and this partnership will begin that evolution in training."
To learn more about the capabilities of the Stratasys Fortus 400mc and Fortus 250mc 3D Production Systems, visit the website. For more information about the Dunwoody College of Technology, visit their website.
Stratasys Ltd. (Nasdaq:SSYS), headquartered in Minneapolis, Minnesota and Rehovot, Israel, is a leading global provider of 3D printing and additive manufacturing solutions. The company's patented FDM® and PolyJet™3D Printing technologies produce prototypes and manufactured goods directly from 3D CAD files or other 3D content. Systems include 3D printers for idea development, prototyping and direct digital manufacturing. Stratasys subsidiaries include MakerBot and Solidscape, and the company operates the digital parts manufacturing service, Stratasys Direct Manufacturing. Stratasys has more than 3,000 employees, holds over 800 granted or pending additive manufacturing patents globally, and has received more than 30 awards for its technology and leadership. Online at: www.stratasys.com or http://blog.stratasys.com
Featured Product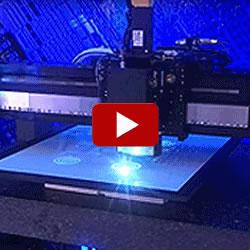 A traditional gantry system employs X-Y or X-Y-Z range of motion. Mounted on a base plate, usually granite, 2 parallel rails constitute the synchronized Y axis motion while the cross axis (bridge axis) provides the X motion. A vertical axis can be added on the bridge for the Z motion. A Split Bridge system can be less complex than a traditional gantry system because synchronization of the two parallel linear motors is not required. Both systems are used in industrial production, testing, and additive manufacturing.