Maxon sets new standards in micro drives.
maxon's smallest DC brushless motor is only four millimeters in diameter and comes in two different lengths. Certified in accordance with ISO 13485, the new brushless micro drive is ideal for medical applications.

The EC 4 brushless DC motor is maxon motor's ultra-compact solution to the market's needs. As the smallest micromotor to come from the Swiss manufacturer, the EC 4 is only four millimeters in diameter. It is available in two lengths, with power ratings of 0.5 and 1 W. Equipped with an ironless maxon winding, the EC 4 stands out for its robust design, high power density, and energy efficiency.
maxon has the matching gearhead
Combined with the GP 4 planetary gearhead, the EC 4 becomes a compact drive for use in micropumps, analytic and diagnostic devices, and laboratory robots. Precise and reliable, it can adjust lenses, dispense fluids, or position sensing devices. All units meet the ISO 13485 medical standard, which makes this maxon micro drive the perfect choice for applications in medical technology.
maxon offers a complete line of dc motors, gearheads and controllers. Contact us to help find the right solution for your application.
Featured Product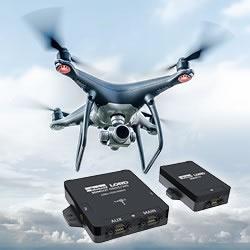 The new complete inertial navigation solution comes with GNSS/INS 3DMGQ7 sensor, 3DMRTK correction modem and real time SensorCloud RTK correction network. The sensor comes with Dual antenna GNSS, tactical grade IMU with centimeter-level accuracy with RTK. Low profile and light weight at 78 grams, this sensor is The sensor is optimized for size and weight in Unmanned Ground Vehicles, mobile robots and autonomous vehicles. The network interface 3DMRTK modem is seamlessly integrated into the 3DMGQ7 sensor supports industry-standard NMEA and RTCM 3.1 protocols. The network RTK support comes with cellular data plan. The SensorCloud RTK is a cloud-based RTK correction system with private encrypted data stream. Check out our G Series and C Series OEM products.