Expands rapid prototyping services with support from Northumberland CFDC and the Eastern Ontario Development Program
COBOURG, Ontario--The integration of new 3D printing technology is helping Custom Plastics International Ltd. (CPI) maintain their long-standing competitive edge in the customized, plastic injection molding business.

Historically, metal molds for prototypes have been manufactured using traditional methods: a process that can take several weeks at a time. In an age of rapid iteration of new product design, the newly acquired 3D printer uses advances in speed, accuracy, strength and thermal properties to compress that development time from weeks to a matter of hours.
The initiative was supported by a collaboration with Northumberland Community Futures Development Corporation (Northumberland CFDC) with funding through the Eastern Ontario Development Program of up to $75,000 for a total project cost of up to $200,000.
"The Government of Canada recognizes the important role that advanced manufacturing plays in strengthening Canadas manufacturing sector and creating and maintaining manufacturing jobs locally. We are proud to support the Northumberland CFDC, who in turn support local entrepreneurs and employers to create jobs and grow their businesses," said Mr. Rick Norlock, Member of Parliament for Northumberland Quinte-West.
Wendy Curtis, Executive Director of Northumberland CFDC commented, "We consider this project to be an ideal match for the Eastern Ontario Development Program which is designed to promote innovation, business development and growth. The ability to 3D print, at a fraction of both the time and cost, removes significant barriers in new product development and advances the critical speed to proof of concept required to compete in todays rapid paced economy."
Jim Majury, General Manager at CPI added, "We were thrilled to be selected to participate in the EODP. This technology ensures we can respond quickly to our customers needs while supplying 3D prototypes and / or prototype tooling to bridge the development gap until high volume production tooling can be produced. The equipment has just arrived and we are already busy securing new business as a result. If this track continues we expect to be able to hire four new positions over the coming months in response to our planned growth."
About Northumberland CFDC
Northumberland Community Futures Development Corporation (Northumberland CFDC) is a business development organization focused on providing financing and strategy to entrepreneurs through a suite of programming including the Government of Canadas Community Futures Program (CFP) and the Eastern Ontario Development Program (EODP). The organization supports innovation and entrepreneurship as a pathway to future prosperity. Northumberland CFDC is a member of the Canadian Venture Capital and Private Equity Association (CVCA) and an industry partner of both the National Angel Capital Organization (NACO) and the Network of Angel Organizations-Ontario (NAO-O). For more, please visit www.financingandstrategy.com
About Eastern Ontario Development Program (EODP)
The Eastern Ontario Development Program is a $48-million economic development initiative of the Federal Economic Development Agency for Southern Ontario (FedDev Ontario) focused on addressing economic challenges in eastern Ontario and taking advantage of innovative opportunities in the region. The five-year renewal of the program is expected to result in more strategic, long-term economic development investments and collaborative projects that will benefit eastern Ontario businesses and communities.
About Customs Plastics International (CPI)
Customs Plastics International Ltd. (CPI) is a highly innovative Canadian company located in Cobourg, Ontario and an acknowledged leader in plastic injection molding technology. CPI offers a wide range of products & services to a diverse group of global industries. The company works with a broad variety of cutting-edge materials with 50 years of experience in producing highly engineered plastic injection molded products. http://www.customplastics.ca/
Featured Product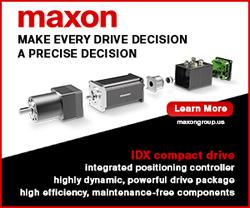 Discover the world of drive technology from a leading worldwide supplier of innovative customized drives. - Manufacturer of brushed and brushless DC motors, gearheads and motion controllers - Custom drive systems, quantities as low as a single unit - Certified for aerospace and medical applications