Company Builds on University Strengths in Pioneering Autonomous Vehicle Research
PITTSBURGH, Aug. 4, 2015 -- Ottomatika Inc., a Carnegie Mellon University spinoff company that provides software and systems development for self-driving vehicles, has been acquired by the global vehicle technology company Delphi Automotive PLC.

Led by Electrical and Computer Engineering Professor Raj Rajkumar, Ottomatika spun off from Carnegie Mellon in 2013 and received an investment from Delphi in November 2014.
The Ottomatika deal highlights Carnegie Mellon's advanced expertise in complex autonomous vehicle systems and in creating exciting companies and technologies that are highly sought after by industry. The university's talented faculty and staff have attracted major technology companies, including Google and Apple, and valuable engineering talent to the region. The university has spun out 138 companies since 2009.
"Carnegie Mellon is at the forefront of exciting technologies that have a real impact on the world," said Carnegie Mellon Provost Farnam Jahanian. "The Ottomatika deal exemplifies how CMU researchers and entrepreneurs are bringing technologies to market that benefit not only the university and the private sector, but society as a whole. CMU remains the destination for faculty and students who seek a culture of innovation, collaborative problem-solving and entrepreneurship."
Ottomatika's software acts as the brain powering Delphi's advanced network of sensor technology for autonomous vehicles. Together, they create a platform that enables vehicles to make safe, highly complex decisions in an instant.
"The founding and purchase of Ottomatika validates Carnegie Mellon's pioneering strengths in automation, robotics and software engineering. Creating high-tech companies in Pittsburgh benefits the university and regional economic development," Rajkumar said.
"Carnegie Mellon is known for its excellent and innovative research and an entrepreneurial culture that translates research results into high-quality companies like Ottomatika," said James H. Garrett, dean of the College of Engineering.
The Delphi Drive system, powered with software from Ottomatika, was recognized at the Consumer Electronics Show among Mashable's Best of CES 2015. In addition, the combined software from Delphi and Ottomatika enabled the longest drive by an automated vehicle in North America in April 2015. The Delphi vehicle completed a 3,400-mile trip from San Francisco to New York in autonomous mode 99 percent of the time. During the nine-day trip, the vehicle navigated through construction zones and met a variety of traffic and weather conditions.
Carnegie Mellon has been at the forefront of autonomous vehicle research and development for more than 30 years. The university has filed more than 140 invention disclosures for related technologies and has created 14 generations of self-driving vehicles.
Beginning in 1984, the university ran the NavLab project, which yielded 11 generations of semi- and fully autonomous vehicles. Another research wave, from 2004 to 2007, focused on the Defense Advanced Research Projects Agency (DARPA) Grand Challenges. Carnegie Mellon won the 2007 DARPA Urban Challenge with Boss, a Chevy Tahoe that traveled a 55-mile course autonomously. The university's latest self-driving car, led by Rajkumar, is a 2011 Cadillac SRX that takes ramps, merges onto highways and cruises at 70 mph by itself.
About Carnegie Mellon University: Carnegie Mellon (www.cmu.edu) is a private, internationally ranked research university with programs in areas ranging from science, technology and business, to public policy, the humanities and the arts. More than 13,000 students in the university's seven schools and colleges benefit from a small student-to-faculty ratio and an education characterized by its focus on creating and implementing solutions for real problems, interdisciplinary collaboration and innovation.
Featured Product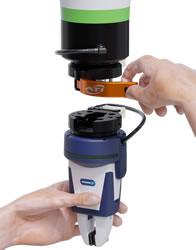 ATI Industrial Automation's MC-10 Manual Tool Changer provides a cost-effective solution for quickly changing tools by hand. Its compact yet robust design is optimized for collaborative robot applications. The ergonomic twist-collar locking mechanism ensures a secure attachment of the tool and easy manual operation with tactile feedback. This Manual Tool Changer can carry payloads of up to 22 lbs and includes multiple fail-safe features that resist vibration and prevent loosening. The MC-10 Manual Tool Changer has integrated air pass-through connections and options to connect electrical utilities if needed. ATI will feature the new MC-10 along with a variety of other robotic demonstrations and product displays at this year's IMTS show in Chicago (Booth #236417).