St. Louis Union Station to host April 2016 conference.
St. Louis, MO. August 18, 2015

The Additive Manufacturing Users Group (AMUG) today announced that its 28th annual users group conference will be located in St. Louis, Missouri, from April 3 - 7, 2016. The five-day event will be held at the St. Louis Union Station, a National Historic Landmark that was built in 1894.
AMUG selected St. Louis because it is centrally located in the United States and it is home to a venue that can accommodate the anticipated growth in attendance. Attendees will be welcomed by a completely renovated facility that retains the grandeur of the golden age of rail travel.
Mark Barfoot, AMUG president, said, "The facility is amazing. It takes you back in time. Everywhere you turn, there is something interesting: artifacts, blueprints, architectural details and historic train cars. And of course, the facility has plenty of space for the conference and networking activities."
Barfoot continued, "Missouri is the Show Me State, which reflects AMUGs intent perfectly. Our event is designed to educate users and advance their use of additive manufacturing. We do that by creating an environment where users share information to show others how to achieve success."
The AMUG Conference draws both novice and expert users seeking insights, assistance and guidance on technologies, applications and processes. The conference also attracts support, in the form of sponsorships, from leading companies in the additive manufacturing industry.
AMUG will have "run of the house" at the St. Louis Union Station property. All hotel guests will be AMUG participants and the entire 100,000 square feet of meeting and exhibit space will be at the groups disposal. This unique venue consolidates all AMUG activities under one roof so attendee interactions will be continuous over the five days.
The AMUG Conference will include technical sessions and hands-on workshops designed to help users get more from their systems. Through technical competitions and the annual Awards Banquet, excellence in applying additive manufacturing and contributions to the industry will be recognized. The five-day event also includes the two-night AMUGexpo, networking receptions and catered meals.
The users group conference, now in its 28th year, is open to owners and operators of all additive manufacturing (3D printing) technologies. The advanced, all-inclusive conference registration fee is $795.00. For details, visit http://www.am-ug.com.
Featured Product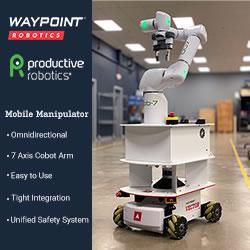 Waypoint Robotics/Productive Robotics omnidirectional 7 DoF mobile manipulator combines the easiest to use, most capable omnidirectional autonomous mobile robot with the simplest and most flexible 7 axis collaborative robot arm. The Vector AMR's omnidirectional mobility enables fast, precise docking in any direction or orientation so the OB7 can perform accurate and precise grasping or picking tasks, taking full advantage of the cobots' 7 degrees of freedom (7 DoF) and superior dexterity. It can be powered using Waypoint's EnZone wireless charger that provides on-demand energy and opportunity charging for longer run times. Workers can use this mobile platform to perform repetitive tasks such as machine tending, quality assurance sampling, material replenishment, packaging, and many others, so they can focus on the high skilled jobs for which they are uniquely qualified. It has never been easier or more cost effective to deploy a mobile manipulator for manufacturing and logistics applications.