FIRST LEGO League and Junior FIRST LEGO League Task 267,500 Children Worldwide to Learn About How Trash Affects Our World
MANCHESTER, N.H.--FIRST (For Inspiration and Recognition of Science and Technology), an international, K-12 not-for-profit organization founded to inspire young peoples interest and participation in science and technology, announced that the 2015-2016 FIRST LEGO League (FLL) and Junior FIRST LEGO League (Jr.FLL) seasons task students to discover the hidden (or not so hidden) world of trash.

"Children who learn to think critically and creatively about environmental issues like trash and recycling will be more equipped to take on the complexity of an environmental issue in the future," said Jennifer DuBuisson, senior manager of Environmental Sustainability, LEGO. "By educating children at an early age on the behavior changes they can make within their homes, schools and communities, as well as increasing their understanding of the consequences of their own actions, we can make a significant positive impact."
For the FLL TRASH TREKSM and Jr.FLL WASTE WISESM Challenges, FIRST collaborated with experts in the fields of waste management and sustainability including representatives of the EPA, Waste Management, LEGO, Clean Harbors, among other specialists to create a theme and challenge missions that reflect todays waste problems and solutions.
"The real-world challenges presented each year by FIRST LEGO League and Junior FIRST LEGO League allow children to engage in issues facing the world around them and identify a solution - all while honing their STEM skills, working as a team, and having fun," said FIRST President Donald E. Bossi. "This year, the topic of waste has global ramifications but also allows for examination and exploration at the local level - in childrens communities and even their own homes."
FIRST LEGO League TRASH TREKSM Challenge
In the 2015-2016 TRASH TREKSM Challenge, more than 233,000 children, ages 9 to 16*, from over 80 countries will explore the fascinating world of trash. From collection, to sorting, to smart production and reuse, students will learn that there is more to your trash than meets the eye.
"Environmental education based on life experiences, beginning at an early age, plays a critical role in shaping lifelong attitudes, values, and patterns of behavior toward natural environments," said Christine Beling of the U.S. Environment Protection Agency (EPA).
FIRST LEGO League challenges kids to think like scientists and engineers. During the TRASH TREKSM season, teams of up to 10 students will choose and solve a real-world trash problem as their Project. Teams will also build, test, and program an autonomous robot using LEGO MINDSTORMS technology to solve a series of sustainability-themed missions as part of the Robot Game which include: demolishing a building and salvaging valuable materials from the debris; converting organic material into fertilizer; reusing methane produced in a landfill to power a vehicle; and more. Throughout the season, teams will operate under a signature set of Core Values, celebrating discovery, teamwork, and Gracious Professionalism.
*ages vary by country
Junior FIRST® LEGO League WASTE WISESM Challenge
The 2015-2016 WASTE WISESM Challenge will reach over 34,500 children, ages 6 to 9 from 18 countries, and help them learn what really happens to all that waste in their own communities.
"Our landfills continue to fill up with materials that could be easily recycled and reused. By having children focus on recycling, it will hopefully also lead to them becoming more focused on things like wildlife conservation, forest conservation and water conservation," said Shawn State of the Recycling Division, Pratt Industries. "Our natural resources are precious and we must start an environmental focus by getting children committed to recycling at a young age."
Each year since 2004, Junior FIRST LEGO League presents a new and exciting challenge to ignite creativity in young children. This year, while exploring the real-world theme of sustainability, teams will learn about simple machines as they build a model made of LEGO elements with a motorized part. They will also learn to illustrate and present information through a Show Me Poster. Throughout their experience, teams will operate under the signature set of Jr.FLL Core Values.
FIRST LEGO League and Junior FIRST LEGO League are two of four K-12 robotics programs within the Progression of Programs at FIRST. The organization offers a progression of four international, after-school STEM (science, technology, engineering, and math) programs for students in K-12.
Currently in its eighteenth year, FIRST LEGO League anticipates its largest season ever, with approximately 29,000 teams competing in hundreds of Qualifying Tournaments and Championship Tournaments. Teams will also have the opportunity to participate at the FIRST LEGO League World Festival, to be held in conjunction with the FIRST Championship, April 27-30, 2015, at the Edward Jones Dome in St. Louis.
Featured Product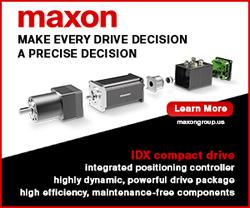 Discover the world of drive technology from a leading worldwide supplier of innovative customized drives. - Manufacturer of brushed and brushless DC motors, gearheads and motion controllers - Custom drive systems, quantities as low as a single unit - Certified for aerospace and medical applications