AutoTune™ technology dynamically tunes motors, and integrated current sensing saves 20 percent board space
DALLAS, Jan. 11, 2016 /PRNewswire/ -- Texas Instruments (TI) (NASDAQ: TXN) today enhanced its high-performance stepper motor-driver family with three new devices for 24-V stepper motors. Two devices offer TI's patented AutoTune™ technology to eliminate stepper motor tuning and two integrate current sensing to support differentiated 3D printers, robotics, factory automation equipment, currency-counting machines and more. Learn more or order samples at www.ti.com/drv8880-pr.

AutoTune technology on the DRV8880 and DRV8881 devices eliminates the time-consuming, iterative process of manual tuning, saving weeks or even months of design time. This on-chip intelligence dynamically monitors the motor's performance under varied conditions over its lifetime and adjusts decay settings appropriately. This functionality makes it possible to develop motors that run quietly and efficiently despite changes in motor properties, supply voltage, load and torque.
For motor systems that do not require the stability and longevity benefits of AutoTune technology, designers can take advantage of the new DRV8885 bipolar stepper motor driver with integrated current sensing. TI incorporates a unique technology that eliminates two external sense resistors to accurately regulate the current to the motor, saving up to 20 percent board space and simplifying routing compared to competing devices. Learn more or order samples at www.ti.com/drv8885-pr.
Tools and support
Designers can speed evaluation and design with the new stepper-motor drivers using the DRV8880EVM, DRV8881EEVM (for phase/enable interface), DRV8881PEVM (for PWM interface) and DRV8885EVM evaluation modules (EVMs). Each EVM features an onboard MSP430TM microcontroller, giving designers a cost-effective platform that speeds development and time to market. Each is available for purchase at US$49 via the TI store and authorized distributors.
To support stepper-motor challenges, designers can search for solutions, ask questions, and share knowledge with fellow engineers and TI experts on the TI E2E™ Community Motor Driver forum.
Pricing and availability
The DRV8880 and DRV8881 are available now in 28-pin very thin quad flat no-lead (WQFN) and heat-sink thin-shrink small-outline package (HTSSOP) types. Pricing in 1,000-unit quantities starts at US$1.92 for the DRV8880 and US$1.60 for the DRV8881.
The DRV8885 is available now in a 24-pin HTSSOP package. Pricing in 1,000-unit quantities starts at US$1.50. The DRV8884 will be available soon in a 24-pin HTSSOP package. Pricing in 1,000 quantities starts at US$1.30.
About Texas Instruments
Texas Instruments Incorporated (TI) is a global semiconductor design and manufacturing company that develops analog integrated circuits (ICs) and embedded processors. By employing the world's brightest minds, TI creates innovations that shape the future of technology. TI is helping more than 100,000 customers transform the future, today. Learn more at www.ti.com.
Featured Product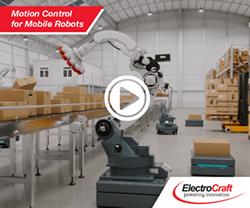 The new MPW86 offers a best in class 500lb per wheel load with speeds of up to 4.3 meters/second. The MPW86 offers powerful starting torque of 35 Nm and 20 Nm continuous. The MPW86 integrated design provides increased performance and reliability at an affordable price compared to traditional motor/gearbox/wheel combinations. The MPW86 is an ideal drivetrain solution for medium to large payload mobile robots and AGVs.