Carnegie Mellon and Sikorsky, A Lockheed Martin Company, Pioneer Ground-Air Cooperative Missions
PITTSBURGH, Jan. 20, 2016 /PRNewswire-USNewswire/ -- Carnegie Mellon University (CMU) and Sikorsky, A Lockheed Martin Company, using a UH-60MU BLACK HAWK helicopter enabled with Sikorsky's MATRIX™ Technology and CMU's Land Tamer® autonomous Unmanned Ground Vehicle (UGV), recently participated in a joint autonomy demonstration that proved the capability of new, ground-air cooperative missions.

Such missions could prevent warfighters' exposure to hazardous conditions, such as chemically or radiologically contaminated areas.
"The teaming of unmanned aerial vehicles (UAVs) and unmanned ground vehicles, as demonstrated here, has enormous potential to bring the future ground commander an adaptable, modular, responsive and smart capability that can evolve as quickly as needed to meet a constantly changing threat," said Paul Rogers, director, U.S. Army Tank Automotive Research, Development and Engineering Center (TARDEC). "The cooperative effort between the Army labs, academia and industry to bring solutions to the warfighter is exciting to see."
The Oct. 27 demonstration was for TARDEC, through the Robotics Technology Consortium, which sponsored the Extending the Reach of the Warfighter through Robotics (ERWR) project. A video of the demonstration is available online.
The BLACK HAWK helicopter was provided by the U.S. Army Aviation and Missile Research Development and Engineering Center's Aviation Applied Technology Directorate and was modified with the Sikorsky autonomy kit, MATRIX, to deliver the UAV capabilities the program required.
"The UH-60MU aircraft is a prototype of the UH-60 in a 'fly-by-wire' configuration," said William D. Lewis, AMRDEC director of Aviation Development. "'Fly-by-wire' technology is the foundational enabler that facilitates autonomous aircraft operations."
MATRIX Technology, launched in 2013, was designed to improve the capability, reliability and safety of flight for autonomous and optionally piloted vertical take-off and landing aircraft.
In the demonstration, the BLACK HAWK helicopter was operated in coordination with a UGV, developed by Carnegie Mellon's National Robotics Engineering Center (NREC). The UGV Land Tamer all-terrain vehicle combined key elements of several NREC world-class autonomous systems to support missions in difficult environments.
"We were able to demonstrate a new technological capability that combines the strengths of air and ground vehicles," said Jeremy Searock, NREC technical project manager. "The helicopter provides long-range capability and access to remote areas, while the ground vehicle has long endurance and high-precision sensing."
During the demonstration mission, the unmanned BLACK HAWK helicopter picked up the UGV, flew a 12-mile route, delivered it to a ground location and released it. The drop-zone collaboration between the two autonomous systems demonstrated a uniquely differentiating capability.
Over the course of more than six miles, the UGV autonomously navigated the environment, while using its onboard chemical, biological, radiological and nuclear (CBRN) sensors to detect simulated hazards and delivered this information back to a remote ground station. The UGV was optionally teleoperated to explore hazard sites in greater detail, when necessary.
"We invested in Matrix Technology because we knew it would mean that, in certain scenarios, the warfighter can be kept out of harm's way and would be able to perform more missions and perform them more effectively," said Mark Miller, vice president of Research & Engineering at Sikorsky, a leader in helicopter design, manufacture and service. "This demonstration indicated just that."
The exercise, at Sikorsky's Development Flight Center, West Palm Beach, Fla., culminated a 19-month project between Carnegie Mellon's NREC and Sikorsky to demonstrate for the Army autonomous delivery of a UGV by an Optionally Piloted or Unmanned BLACK HAWK helicopter, followed by a long-range autonomous ground mission to collect vital, on- the-ground intelligence. The collaboration between the UAV and the UGV demonstrated the effectiveness of unmanned systems in addressing logistics needs in unknown or dangerous environments.
About Carnegie Mellon University: Carnegie Mellon (www.cmu.edu) is a private, internationally ranked research university with programs in areas ranging from science, technology and business, to public policy, the humanities and the arts. More than 13,000 students in the university's seven schools and colleges benefit from a small student-to-faculty ratio and an education characterized by its focus on creating and implementing solutions for real problems, interdisciplinary collaboration and innovation.
About TARDEC: The U.S. Army Tank Automotive Research, Development and Engineering Center (TARDEC) develops, integrates and sustains the right technology solutions for all manned and unmanned Department of Defense ground vehicle systems and combat service support equipment to improve the effectiveness of our armed forces and provide superior capabilities for our future armed forces. Headquartered at the U.S. Army Detroit Arsenal in Warren, Mich., TARDEC is a major research, development and engineering center for the Army Materiel Command's Research, Development and Engineering Command, and is an enterprise partner in the TACOM LCMC. For more information, please visit our website at http://www.army.mil/tardec, our Facebook page at www.facebook.com/TARDEC or our Twitter page at https://twitter.com/TARDEC_PAO.
About AMRDEC: The U.S. Army Aviation and Missile Research, Development and Engineering Center leads the nation in advancement and sustainment of aviation systems, missile systems and related technologies. AMRDEC's mission is to deliver technical capabilities for responsive and cost effective research, product development and life-cycle systems engineering solutions that equip the warfighter with the best technology today and tomorrow. The center supports approximately 20 missile systems, 10 aviation platforms, unmanned platforms and other major weapon systems with a dedicated workforce of nearly 10,000 civilians, contractors and military. For more information please visit our website www.army.mil/info/organization/unitsandcommands/commandstructure/amrdec, our Facebook page at www.facebook.com/rdecom.amrdec, or our YouTube page at www.youtube.com/user/AMRDEC
About Sikorsky: Sikorsky, A Lockheed Martin Company, is a world leader in helicopter design, manufacture and service.
About Lockheed Martin: Headquartered in Bethesda, Maryland, Lockheed Martin is a global security and aerospace company that employs approximately 112,000 people worldwide and is principally engaged in the research, design, development, manufacture, integration and sustainment of advanced technology systems, products and services. The Corporation's net sales for 2014 were $45.6 billion (excluding Sikorsky, which was acquired in 2015).
Featured Product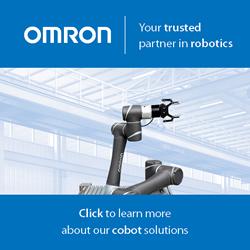 Humans and robots can now share tasks - and this new partnership is on the verge of revolutionizing the production line. Today's drivers like data-driven services, decreasing product lifetimes and the need for product differentiation are putting flexibility paramount, and no technology is better suited to meet these needs than the Omron TM Series Collaborative Robot. With force feedback, collision detection technology and an intuitive, hand-guided teaching mechanism, the TM Series cobot is designed to work in immediate proximity to a human worker and is easier than ever to train on new tasks.