Ohio VCs Make Strategic Investment in Virtual Reality Sensor Firm
Yost Labs, inventor and producer of the worlds most responsive and accurate gesture-tracking technology, announced a Series A investment of $1 million from a group of Ohio-based investors. This strategic investment is focused on efforts to accelerate market adoption of Yost Labs' innovative sensors and real-time human movement motion-capture systems.

"Yost Labs innovation pipeline is full," said Greg Merril, CEO of Yost Labs. "We are introducing two very exciting products within the next 90 days, and are filing patent applications for other ground-breaking inventions. This Series A investment brings us strategic stakeholders and the capital that will help us build on our track record as one of the fastest growing technology companies in Ohio."
One of the new products Yost Labs is launching is a next-generation Attitude Heading Reference System (AHRS)/Inertial Measurement Unit (IMU) sensor that is designed to bring aerospace-grade inertial tracking to the consumer electronics market. This new sensor, with Yost Labs next-generation advanced sensor fusion firmware, will establish new benchmarks for low latency and high accuracy, providing the responsiveness needed for applications such as head-mounted display (HMD) tracking, drone stabilization, biomechanics analysis, and real-time robotic control.
Another new product being introduced is the PrioVR™ Dev Kit, a wearable array of inertial sensors that tracks, in real-time, the motion of a persons body. The PrioVR Dev Kit has already captured the imagination of scores of virtual reality (VR) content developers. Yost Labs has pre-sold thousands of units, and expects to create the largest user and developer community of any full-body inertial interface device in the world. PrioVR Dev Kit applications include VR video game control, character animation motion capture, sports performance and rehabilitation.
"Yost Labs is an impressive example of taking innovations from the lab and refining them based on market need and opportunity," said John Glazer, Director of TechGROWTH Ohio, one of the Series A investors. "Ohio is committed to technology entrepreneurship. Ohios Third Frontier program and the TechGROWTH Ohio Fund is designed to support the States most promising tech startups and provide them with venture development assistance and investment capital. We are focused on the best of the best. Yost Labs is a big part of why the Ohio Valley is on its way to becoming the next Silicon Valley."
Yost Labs is among the fastest growing tech companies in Ohio, averaging 42% year-over-year growth over the past four years. It is debt-free and profitable. Independent market analysts including KZero and Digi-Capital have named Yost Labs a technology leader in the emerging virtual and augmented reality market—a market estimated to be worth $150 billion by 2020. Yost Labs' customers are among the largest and most prestigious in the technology, entertainment, military/government and e-commerce sectors.
Added Merril: "We are a recognized technology provider in hyper-growth markets ranging from drones to virtual reality. Paul Yost, our Founder and chief technologist, built this company from the ground up and never sought outside funding, but this strategic group of investors, at this important time in our companys growth, brings both intellectual capital related to our target markets as well as financial capital to accelerate access to those markets."
About Yost Labs, Inc.
Yost Labs is defining the leading edge of inertial sensor technology. The companys patented sensor technologies enable motion and position tracking in many of todays and tomorrows most exciting products. Leading technology companies around the world integrate these sensors into products involving real-time human movement motion-capture, vehicle navigation, drone and robot control and other amazing applications. Yost Labs is privately funded and headquartered in Portsmouth, OH. For more information, visit http://www.yostlabs.com.
Featured Product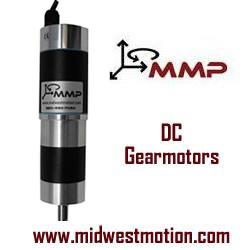 MMP is well known for our Lightning-Fast Delivery Capability, Huge On-Hand Inventory, High Volume Capacity and Time Tested and Proven Reliability Methods. Our 100+ years of combined work experience and being able to deliver continual committed service to design and engineer ideas into reality gives us a competitive advantage in the motion control industry. If you need a sample right away, we can be a project-saving convenience for you, so contact us today!!