The Interoperability Profile (IOP) standard was developed to dramatically reduce the integration effort required when introducing new capabilities, payloads, and sensors to robot systems.
PITTSBURGH, PA - June 29, 2016 -- RE2 Robotics announced today that is has, in partnership with Endeavor Robotics, integrated its IOP-compliant advanced manipulator with Endeavor Robotics' (Bedford, MA) lifesaving robots. RE2 Robotics is expert at developing state of the art manipulation technology and this integration demonstrates how cutting edge manipulation technology can be matched with world-class robotic platforms to quickly deliver the most advanced capabilities to the warfighter.

The Interoperability Profile (IOP) standard was developed to dramatically reduce the integration effort required when introducing new capabilities, payloads, and sensors to robot systems. By developing their products in compliance with the IOP standard, RE2 and Endeavor Robotics are able to quickly introduce new robot capabilities leveraging their combined strengths. "The direct benefit of IOP compliant payloads is that it enables developers to concentrate on their specific areas of expertise. The state of the art manipulation technology that RE2 develops can be easily integrated on Endeavor's robotic platforms, quickly getting the best capabilities to the warfighter. We are excited to continue our collaboration with a leading developer of tactical mobile robots," stated Jorgen Pedersen, president and CEO of RE2 Robotics.
"We are eager to increase our effort with RE2 Robotics and we are thrilled to see our commitment to IOP standards paying off," said Sean Bielat, CEO of Endeavor Robotics. "RE2 has a deep understanding and expertise with IOP compliance as evidenced through their breadth of collaborations with government agencies and various defense contractors. We believe that robot evolution depends upon collaboration between industry leaders and government and their joint ability to work and leverage open architectures. By incorporating IOP into our products, we are able to quickly integrate the best technology available and deliver next generation systems to our customers on the front line."
About RE2 Robotics
RE2 Robotics is a leading developer of next generation robotic manipulator arms that enable robots to better interact with the world - whether on the ground, in the air, or underwater. RE2 designs robust modular manipulators and humanlike dual-arm robotic systems with easy-to-use imitative controls that can be easily integrated onto a variety of platforms and enable personnel to perform dangerous and complex tasks at a safe distance.
Please visit www.resquared.com to learn more.
About Endeavor Robotics
Endeavor Robotics brings an established leadership team with decades of experience in the mobile robot industry, the best roboticists who collaborate with end-users to develop robots for worldwide markets, and veteran field service engineers who keep you in the fight. For more than 15 years, with deployments worldwide, operations in areas of conflict and in response to natural disasters, Endeavor Robotics has specialized in delivering battle-hardened and adaptable robotics. We are committed to working with industry leaders and partners to deliver innovative, reliable and the easiest to operate robot solutions. Our family of robots include the 5-lb. FirstLook, 18.5-lb. SUGV, man-portable PackBot, and heavy-duty Kobra. To date, we have delivered more than 6,000 robots worldwide.
Please visit www.endeavorrobotics.com to learn more.
Featured Product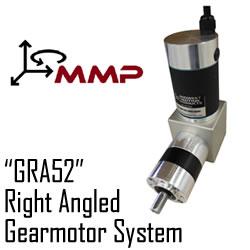 Midwest Motion Products Inc., based in Howard Lake, Minnesota, is pleased to announce the release of the new "GRA52" Right Angled Gearmotor System. This new 1:1 Right Angled Gearbox allows for significantly increased versatility, and design whose geometry allows for the unit to be mounted in tight spaces. We employ our Standard Brushed or Brushless DC Motors and Planetary Gearheads to complete the new R/A Design. Features/Benefits: Cost effective design - as low as $250*, Very Versatile - Output Ratios ranging from 3.7:1 to 2076:1, Fully Reversible Design, Readily available - Samples can be built from Stock Material, High Volume capacity.