BitFlow frame grabber accelerates development of human-scale passenger capsule for SpaceX Hyperloop Pod Competition
WOBURN, MA, AUGUST 11, 2016 -- BitFlow, Inc., a global innovator of frame grabbers for industrial, scientific and military vision systems, today announced its sponsorship of the Purdue University engineering team selected to compete in the January 2017 SpaceX Hyperloop Pod Competition. The 18-member Purdue Hyperloop Team was among more than 120 universities who submitted designs earlier this year, and one of 29 teams invited to the next round.

"BitFlow is proud to work with the Purdue team as it develops the next generation of ultra high speed transportation, especially because they are relying on BitFlow frame grabbers and software development kits, along with technical support from our engineers," said Donal Waide, Director of Sales & Marketing for BitFlow. "This is a great opportunity for BitFlow to foster engineering students' interest in machine vision technology, and support to some of this country's brightest young minds."
Purdue's team is deploying a BitFlow Axion-CL™ Camera Link frame grabber within its pod as part of a high resolution video-based location finder. The frame grabber greatly simplifies the multiple camera set-up by appearing in software as two completely independent frame grabbers, rather than a single unit. In dual camera mode, as a result, two cameras do not need to be the same resolution, frame rate, trigger mode or tap format, giving added versatility in the students' design. The Axion-CL leverages BitFlow's StreamSync™ system, an optimized DMA engine, and expanded I/O capabilities that provide unprecedented flexibility in routing, all giving the students an amazing amount of power at their finger tips, ready to accelerate image processing functions and solve vision design challenges.
Aimed at university students, the SpaceX Hyperloop Pod Competition was created to find the best, fastest pod design for a hyperloop transportation system. Following preliminary judging 29 teams, including Purdue, were selected to build three-fourth scale physical prototypes and test them on a one-mile Hyperloop test track that SpaceX constructed near its Hawthorne, California headquarters. The primary goal of the SpaceX Hyperloop Pod Competition is to produce a fail-safe, passenger-friendly, scalable prototype that successfully levitates throughout the length of the track.
In 2013, SpaceX and Tesla founder Elon Musk envisioned the "Hyperloop" concept as a fast transportation technology designed to revolutionize modern transit. It involves a levitating passenger capsule or "pod" propelled by magnets in a vacuum tube traveling at 750 MPH -- or nearly the speed of sound. Such a system would reduce the travel time, for example, between San Francisco and Los Angeles to less than a half-hour. Musk has kept Hyperloop "open-source" and patent-free to encourage fresh thinking and drive innovative approaches to this revolutionary concept, whether the ideas came from students, independent engineering teams or entrepreneurs.
For more information about the Purdue Hyperloop Team visit www.purdue.edu/hyperloop. To learn more about BitFlow frame grabbers, call 781-932-2900 or visit www.bitflow.com.
About BitFlow
BitFlow has been developing reliable, high-performance Frame Grabbers for use in imaging applications since 1993. BitFlow is the leader in Camera Link frame grabbers, building the fastest frame grabbers in the world, with the highest camera/frame grabber densities, triggering performance, and price. With thousands of boards installed throughout the world, into hundreds of imaging applications, BitFlow is dedicated to using this knowledge and experience to provide customers with the best possible image acquisition and application development solutions. BitFlow, located in Woburn, MA, has distributors and resellers located all over the world including Asia, the Americas, and Europe. Visit our website at www.bitflow.com.
Featured Product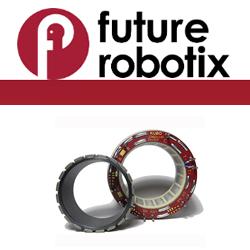 Servotecnica Slip Rings (Rotary Joints) for robotics, including: Electric Rotary Joints, Fiber Optic Rotary Joints (FORJ), Combined Rotary Joints, and Custom Rotary Joints in sizes from 12.5mm on up, through-hole and other configurations.