As part of their participation at this week's Intel Developer Forum, Simbe Robotics today announced that it is now using the Intel RealSense camera in its pioneering Tally robot.
Simbe will be showcasing Tally, the world's first robotic autonomous shelf auditing and analytics solution for retail, at IDF's Technology Showcase. Tally has the ability to audit shelves faster and more cost-effectively than existing methods while also attaining near-perfect accuracy. Tally works in concert with retail associates by arming them with information to ensure the store's products are always stocked, in the right place, and displaying the correct price tag. The robot operates safely during normal store hours alongside shoppers and employees and requires no infrastructure changes to the store.

Intel has played a major role in developing the open source ROS package for RealSense. ROS is a set of open source software libraries and tools that has become the worldwide de facto standard in building robot applications. ROS lies at the heart of leading robotic platforms worldwide, including Simbe's Tally robot. More information on the ROS wrapper for Intel RealSense is available at http://wiki.ros.org/RealSense
"The RealSense Camera is proving to be a valuable solution not only for Simbe, but to the larger robotics industry," according to Brad Bogolea, CEO of Simbe Robotics. "Between a low-cost, a discrete form factor, ROS integration, and Intel's strong support, we expect rapid adoption of the RealSense camera."
"At Intel, we are already seeing some very interesting use cases for the RealSense Camera in the world of robotics and Simbe's Tally solution is a great example of this," according to Achin Bhowmik, Vice President, New Technology Group, General Manager, Perceptual Computing Group, Intel Corporation. "I'm also particularly proud of Intel's contribution toward integrating RealSense with ROS and allowing roboticists to use our camera out of the box."
Bhowmik will be discussing the benefits of the Intel RealSense Camera during a session entitled: Intel RealSense Technology: Adding Human-like Sensing to Devices. As part of that session, Bhowmik will be joined by Simbe Robotics' CEO Brad Bogolea. The session takes place on Wednesday, August 17, from 1:15 PM to 2:15 PM, Level 2, Room 2016 Tech & Business Insight.
Featured Product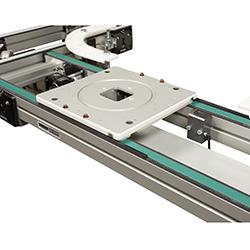 Dorner's 2200 Series Precision Move Pallet Systems are ideal for assembly automation. With features such as an innovative timing belt conveyor design and industry best pallet transfers, they get your product to the exact location, at the exact time and in the exact position it needs to be. They are now available with new options such as heavy load corner modules with 150 lb. capacity and 180 degree tight transfer corners for compact loops.