Company to demonstrate revolutionary robotics, mobile training applications and soldier wellness solutions designed to support Army modernization
CHANTILLY, Va.--(BUSINESS WIRE)--Engility Holdings, Inc. (NYSE:EGL), will be unveiling several innovations to support Army modernization at the 2016 Association of the United States Army Annual Meeting and Exposition in Washington, D.C., Oct. 3-5, showcasing advanced capabilities in robotics, mobile training applications and soldier wellness solutions designed to help the Army achieve greater efficiencies in mission operations.

"From providing soldiers with mobile training apps that allow them to learn anywhere, anytime to conducting research to enhance unmanned robotic systems, Engility is answering the Army's call to develop superior technologies that deliver more effective training and operations solutions for today's ever-changing world," said John Hynes, Engility president and chief operating officer.
Engility will have its subject matter experts on site at AUSA booth No. 2249 to discuss and demonstrate the company's latest technology developments in the areas of:
Robotics and 3-D Printing - Featuring a proprietary robot, a 3-D-printed robotic arm and a multi-rotor platform, all developed in conjunction with the Army Research Laboratory Autonomous Systems Division.
Mobile Training Technology - Exhibiting mobile apps created to help the Army transition from traditional learning to virtual training, reflecting today's tech-savvy soldiers.
Traumatic Brain Injury Prevention - Showcasing work being done to enhance the effectiveness of psychological health and TBI programs that provide care to service members and their families.
JRE Data Link Gateway (Joint Range Extension) - Discussing the most widely deployed combat-proven data link gateway in the world that connects legacy and future systems across the battlespace and around the globe.
In addition to its booth demonstrations, Engility is proud to sponsor the AUSA Family Readiness Directorate and its Volunteer Family of the Year Award, which recognizes an exceptional Army family whose volunteer service significantly contributes to the well-being of the Army community. John Hynes will participate in the award presentation on Wednesday, Oct. 5.
Engility is also sponsoring the exhibition in booth No. 2224 for United Through Reading, a nonprofit organization dedicated to uniting military families who face physical separation by facilitating the experience of reading aloud together.
For more information, please visit engilitycorp.com/AUSA2016.
About Engility
Engility (NYSE: EGL) is engineered to make a difference. Built on five decades of heritage, Engility is a leading provider of integrated solutions and services for the U.S. government, supporting customers throughout defense, intelligence, space, federal, civilian and international communities. Engility delivers world-class performance, efficiency and best value in a broad range of services from global security to information security, and from international development to research and development. Headquartered in Chantilly, Virginia, and with offices around the world, Engility draws on its intimate understanding of customer needs, deep domain expertise and skilled team to develop and deliver on-target solutions for critical missions. To learn more about Engility, please visit www.engilitycorp.com and connect with us on Facebook, LinkedIn and Twitter.
Featured Product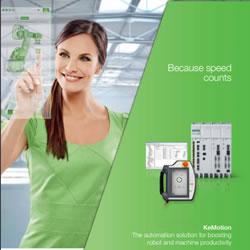 Best ergonomics and an intuitive user interface are key factors for efficient operation and monitoring. With the KeTop devices, high-performance, application-optimized hardware is available. The turnkey TeachView robotics user interface enables fast and easy teach-in. User-friendly HMIs are created with the easy-to-operate KeView visualization software - an optimum user experience is guaranteed.