Introduces high performance Sawyer robot with software development kit
BOSTON, October 6, 2016 - Rethink Robotics today unveiled its high performance Sawyer robot for the global research and education markets. Built on the open source Robot Operating System (ROS) and equipped with a software development kit (SDK), Sawyer will help leading educators and researchers innovate in fields including machine learning, human-robot interaction, mechatronics and grasping, machine vision and manufacturing skills.

The new SDK package brings expanded capabilities to the Sawyer robot, while still featuring the same industry-leading specifications, including seven degrees of freedom, a 4kg payload, 1260 mm reach, high resolution embedded vision and sub-millimeter precision, while weighing only 19kg.
"Baxter has set the standard for open source research robots throughout the world. By designing solutions on a robotics platform designed for industrial applications, researchers and educators are applying innovative solutions to real world problems," said Brian Benoit, senior product manager, Rethink Robotics. "With Sawyer, we offer our customers a high performance platform to expand into new areas of research, engineering education and the development of manufacturing skills."
Rethink Robotics open source community members are expanding the way smart, collaborative robots are used in research and education. Users from 27 countries around the world are sharing applications and development code to advance of the use of collaborative robots everywhere.
With the growing intersection of industry and education, Sawyer is leading the way for researchers and educators at University of Pennsylvania, University of Technology Sydney, Embry-Riddle Aeronautical University, Johns Hopkins University and University of Portsmouth, with research ranging from the study of autonomous systems for manufacturing efficiency, to the interdisciplinary investigation of robotics, signal processing and medical devices for improving patient care.
The new Sawyer SDK will be on display at IROS in Daejeon, South Korea, where thousands of developers will be able to see the new open source robot in action. Rethink Robotics Brian Benoit will be speaking on October 12 at IROS on the topic, "How Collaborative Robots are Changing the Face of Manufacturing." Benoit will detail the new possibilities that have been opened up to researchers and scientists as a result of Sawyers availability in the education market.
For more information, visit www.rethinkrobotics.com.
About Rethink Robotics
Rethink Robotics is transforming the way manufacturing gets done, with smart, collaborative robots able to automate the 90 percent of tasks that until now, have been beyond the reach of traditional automation. Its Baxter and Sawyer robots, powered by the Intera software platform, adapt to real-world variability, can change applications quickly and perform tasks like people do. The result: manufacturers of all shapes, sizes and industries get the fast-to-deploy, easy-to-use and versatile automation solution they need to increase flexibility, lower cost and accelerate innovation.
Committed to accelerating robotics innovation in manufacturing and beyond, Rethink Robotics robots gives academic and corporate research environments a humanoid robot platform with integrated sensors and an open software development kit for creating custom applications.
Based in Boston, the Rethink product suite is available in Asia, Europe and North America. The company is funded by Bezos Expeditions, CRV, Highland Capital Partners, Sigma Partners, DFJ, Two Sigma Ventures, GE Ventures and Goldman Sachs. For more information about Rethink Robotics, please visit www.rethinkrobotics.com and follow us on Twitter at @RethinkRobotics.
Featured Product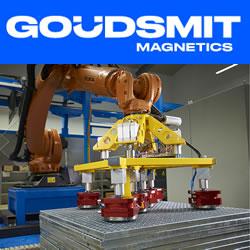 Magnetic robot end-of-arm tooling are suitable for the automated pick-up and positioning of steel or other ferromagnetic objects. They can be switched on and off and have a threaded mounting hole for robots. Magnetic grippers are an efficient alternative for traditional robot grippers. Application in automated production lines and for robots and pick-and-place systems. Magnetic product handling reduces the duration and number of operations. Goudsmit Magnetics is driven by magnetism since 1959. See how it works: https://youtu.be/hcXJ98mXHZE