New vacuum cups offer improved traction, durability and throughput for high-speed applications.
Auburn Hills, Mich. (October 25, 2016) - DESTACO, the industrys leading global provider of high-performance automation, workholding and containment solutions, today launched its new Accelerate® Collection of vacuum cups, which offer improved traction, enhanced durability and higher throughput for high-speed press rooms and crossbar applications.

Available globally, the Accelerate® Collection of vacuum cups feature an anti-slip tread pattern made from a high-performance polyurethane material for higher friction, faster grip and superior holding on oily surfaces. Additionally, this material provides an increased shelf life.
"As manufacturers look to improve their production rates, lightweighting will become increasingly important - especially as it relates to automation tooling, such as end effectors or transfer press fingers," said Ben Pauzus, global product manager, End Effectors, DESTACO. "Lighter solutions that offer higher holding power give customers the best opportunity to increase their throughput. Not only are production increases recognized through the ability to increase transfer speed, but the polyurethane material is more durable allowing for fewer PM cycles and less downtime."
The new line also includes four styles in 17 different sizes to accommodate modular requirements. Additional features include:
• Higher acceleration/deceleration requirements
• Enhanced transverse loading
• Improved shape retention
• Increased wear resistance - no dry rotting or cracking
• Compatibility with new or existing applications
ARV® with Manual Override
Designed for ease of use, DESTACO recently launched the Auto-Release Venturi (ARV®) with a manual override feature that allows for quick, on-the-spot vacuum cup adjustment. The ARV® manual override has a single button that can be depressed with either a thumb or finger. This allows the tool builder/operator to make fast, easy adjustments to the vacuum cup position, which can help reduce downtime.
Accelerate Collection®
Made of a wide range of aluminum end effector components, the Accelerate Collection® can be assembled into custom solutions for most press room stamping applications. These can provide weight savings up to 50 percent and speed gains of up to 30 percent - all for faster production without adding stress to automation equipment.
For more information about the Accelerate® Collection, ARV® or other DESTACO end effector solutions, visit destaco.com.
About DESTACO
DESTACO is the industrys leading global supplier of high-performance automation, workholding and containment solutions, and focuses all of its talent and resources on helping manufacturers improve precision and productivity. The organizations product line - the industrys broadest - comprises end effectors, grippers, indexers, manual and power clamps, and containment solutions, and allows DESTACOs insightful engineering experts to develop creative, custom solutions that competitors simply cannot match. Based in Auburn Hills, Michigan, DESTACO operates globally with locations in more than 10 countries in all key regions of the world. For more information, visit destaco.com.
Featured Product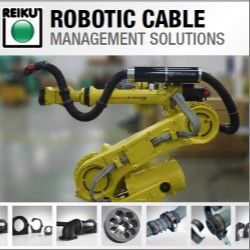 REIKU's Cable Saver™ Solution eliminates downtime, loss of revenue, expensive cable and hose replacement costs, maintenance labor costs. It's available in three sizes 36, 52 and 70 mm. All of the robots cables and hoses are protected when routed through the Cable Saver™ corrugated tubing.The Cable Saver™ uses a spring retraction system housed inside the Energy Tube™ to keep this service loop out of harms way in safe location at the rear of the Robot when not required. The Cable Saver™ is a COMPLETE solution for any make or model of robot. It installs quickly-on either side of the robot and has been tested to resist over 15 million repetitive cycles. REIKU is committed to providing the most modular, effective options for ensuring your robotic components operate without downtime due to cable management. www.CableSaver.com