Designed into imaging systems and cameras, Pleora USB3 Vision video interfaces reduce cost and complexity by transmitting high-bandwidth video over simplified cabling
Pleora Technologies, the worlds leading supplier of high-performance video interfaces, today announced that its USB 3.0 products will be demonstrated in cameras and imaging systems at VISION 2016, taking place November 8-10, 2016 in Stuttgart, Germany.

Pleoras USB3 Vision™ interfaces, including external frame grabbers and embedded hardware, provide cost and design flexibility advantages by transporting high-bandwidth imaging and video data over a USB 3.0 cable. Data is transmitted directly to a standard USB 3.0 port, allowing designers to reduce system size, cost, and power consumption by using smaller form factor computing platforms, such as laptops, embedded computers, and single-board computers.
The companys USB3 Vision products have been designed into machine vision, medical imaging, and scientific measurement applications. The Crowley Company, a world-leader in digital and analog imaging technologies and conversion services, will be demonstrating new high-resolution machine vision cameras that integrate Pleoras USB 3.0 interface at VISION 2016. (Booth 1D88)
The MACHCAM 71MP Machine Vision Camera is a compact solution - the case measures only 83x83x63.5 mm— that produces clear images with the highest resolutions available for numerous industry applications, from packaging and inspection to law enforcement and archival scanning. The MACHCAM is available in monochrome (MACHCAM 71M) and color (MACHCAM 71C) models.
"The MACHCAM 71MP brings our three decades of expertise in resolution, image clarity and specification expertise into new machine vision imaging applications," said Christopher Crowley, president and owner of The Crowley Company. "Pleoras small footprint, high bandwidth USB 3.0 video interface hardware helped us design a compact camera that can be easily integrated into any vision application."
In addition, Pleora will showcase how designers can deploy USB3 Vision interfaces to simplify imaging system design and reduce costs at VISION 2016 (Hall 1 Stand F 31). In a live demo, the iPORT™ CL-U3 External Frame Grabber will convert Camera Link video into a USB3 Vision image stream that is transmitted with low, consistent latency over a USB 3.0 cable directly to a port on a laptop.
"With our USB3 Vision products, manufacturers designing new vision systems or upgrading existing infrastructure can easily benefit from USB 3.0's economical cabling and compatibility with a wider range of computing platforms," said John Phillips, senior product manager with Pleora.
Featured Product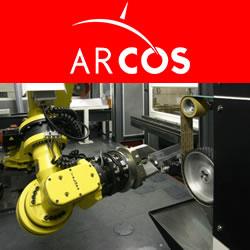 Robotized system for automatic cutting and grinding turbine blades , starting from the rough product. The system is equipped with fully automatic component loading and unloading. Approved 3M Robotics System Integrator.