Paralympian Athlete, Helgi Sveinsson will be participating with us wearing the Össur POWER KNEE™ motor powered knee joint!
Peabody, MA, January 4, 2017 -Harmonic Drive LLC, a leader in high precision motion control will be exhibiting at CES 2017 in Las Vegas in the Robotics Marketplace at the Sands Convention Center. Harmonic Drive® products are relied upon every day throughout the robotics community. Come see a live demo of the Össur POWER KNEE! The POWER KNEE utilizes a special component set from Harmonic Drive.

We are happy to welcome the folks from Össur with their POWER KNEE prosthesis to our booth. The POWER KNEE is the world's first and only motor-powered, artificially intelligent prosthesis for above-knee amputees. Come see how it works, live, in-person. Paralympian Helgi Sveinsson will be on-site for live demonstrations throughout the show.
Helgi Sveinsson was a talented handball player and all-around athlete when he lost his leg above the knee in 1999 due to bone cancer. In 2011, he was introduced to the world of Paralympic sport and hasn't looked back since! He won a gold medal in the worlds first Cybathlon in Switzerland.
Founded in 1971, Össur has wide-ranging expertise in the development, production, and sale of non-invasive orthopedics. Renowned worldwide as pioneers of advanced orthopedic technology, Össurs mission is to improve peoples mobility. For more information, visit: ossur.com
We will also have several products on display. We will be showcasing some of our new products such as the zero backlash, ultra-flat CSF-2UP gearhead! The CSF-2UP mini gearheads are ideally suited for small robots or manipulators requiring an ultra-compact solution. These new high-torque, zero-backlash gear units have an ultra-flat configuration and feature a large cross-roller bearing with high-moment stiffness.
About Harmonic Drive LLC
Harmonic Drive, LLC engineers and manufactures precision servo actuators, gearheads and gear component sets. We work closely with both Fortune 500 and companies of all sizes to understand their application requirements and provide a standard or custom-engineered solution to enable the success of their design project. The majority of the products sold by Harmonic Drive, LLC are proudly made at our manufacturing facility in Peabody, Massachusetts. Harmonic Drive Group Companies in, Japan (Harmonic Drive Systems, Inc.) and Germany (Harmonic Drive AG) provide additional products.
With over 50 years of experience, our expert engineering and production teams develop enabling technologies and products to meet the needs of an evolving motion control market. We are very proud of our outstanding company history. Our high-precision, zero-backlash Harmonic Drive® gears and Harmonic Planetary® gears have, and continue to play critical roles in robotics, spaceflight applications, semiconductor manufacturing equipment, factory automation equipment, medical diagnostics and surgical robotics. More information can be found by visiting the companys main website at www.harmonicdrive.net
Featured Product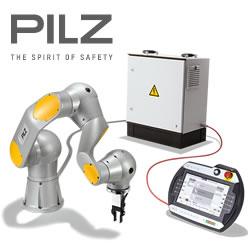 Our service robotics modules give you an easy start in robotics. Assemble your individual robot application - exactly according to your requirements: Service robotics modules consists of the manipulator module PRBT, the control module PRCM, the operating module PRTM and ROS modules. Our collision measurement set PRMS for human-robot collaboration (HRC) supports you reliably on your path to a safe application. Application areas of the service robotics modules can be found in service robotics and industrial environments. Benefit from our cost-efficient, flexible solution!