World's first PCI bus-mastering digital frame grabber
WOBURN, MA, FEBRUARY 23, 2017 -- BitFlow, Inc. is celebrating the 20th anniversary of the launch of the BitFlow Roadrunner (R), the world's first PCI bus-mastering digital frame grabber. Powered by an early version of BitFlow's FlowThru architecture, which combines high-speed video FIFOs with a highly optimized scatter/gather DMA, the Road Runner served as a landmark innovation for the machine vision industry.

The Road Runner was been successfully designed into thousands of machine vision systems over the last two decades, and remains a favorite today of both professionals and amateur imaging enthusiasts.
"What made the Road Runner such as a groundbreaking product was its flexibility," said Donal Waide, Director of Sales and Marketing for BitFlow. "It marked a new generation of frame grabbers that could be used in virtually any imaging application requiring a digital camera or data source, along with a desktop computer for processing. The launch's success gave us enormous confidence in our engineering abilities and has influenced succeeding generations of BitFlow frame grabbers, including our Karbon, Neon, Cyton and Axion product lines."
BitFlow was founded in 1993 by a group of Boston engineers frustrated by the state of frame grabbers. The fledgling company's first effort, the Raptor(TM) frame grabber was an immediate success in the machine vision industry and led to the 1997 introduction of the Road Runner. This was followed in 2000 by the Road Runner CL, BitFlow's first Camera Link product, in support of the new interface standard. The R3-CL, the "unofficial" third generation of the Road Runner, arrived soon afterward.
BitFlow is encouraging Road Runner users to upload their application photos to its Facebook page or to email photos to sales@bitflow.com. To learn more about the full line of BitFlow frame grabbers, please visit www.bitflow.com.
About BitFlow
BitFlow has been developing reliable, high-performance Frame Grabbers for use in imaging applications since 1993. BitFlow is the leader in Camera Link frame grabbers, building the fastest frame grabbers in the world, with the highest camera/frame grabber densities, triggering performance, and price. With thousands of boards installed throughout the world, into hundreds of imaging applications, BitFlow is dedicated to using this knowledge and experience to provide customers with the best possible image acquisition and application development solutions. BitFlow, located in Woburn, MA, has distributors and resellers located all over the world including Asia, the Americas, and Europe. Visit our website at www.bitflow.com.
Featured Product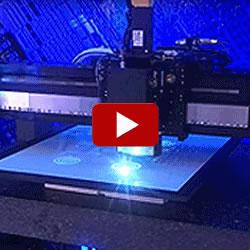 Hexapod micro-motion robots are based on very flexible concept that can easily solve complex motion and alignment problems in fields including Optics, Photonics, Precision Automation, Automotive, and Medical Engineering.