In a new PPP collaboration between University Hospital Køge and Blue Ocean Robotics an innovative patient-lifting robot is developed to perform gentle and effortless transfers of patients without the use of fixed overhead lifts.
Multi-Tower Robot, the new robotic healthcare solution from Blue Ocean Robotics, is developed as a contribution to improving the quality level, resource utilization and general welfare development of the Danish healthcare system. Furthermore, the robot is being developed to enable a sustainable fulfillment of the eighth national targets issued by the government, KL and Danish Regions in 2016. The national targets has been set as a foundation in improving quality levels of the Danish healthcare system with a strong focus on individual patient benefits.

Nurse under archThe technology is, among other things developed as a central element in Region Zealands construction of the new university hospital in Køge, which will act as the main hospital in the Region Zealand, with an expected 60,000 hospitalizations per year. The hospital management estimates that one in four hospital admissions will include a non-self-reliant patient who will require personnel assistance in patient transfer. Transfer of patients lay claim on a lot of the human resources available and is often associated with risk of work-related injuries to hospital personnel and limited patient safety.
The Multi-Tower Robot is a mobile, flexible and modular patient-lifting robot intended to be used primarily in hospital patient rooms and in correlated situations where patient-moving is required. The versatile design and flexibility of the Multi-Tower Robot enable furthermore utilization in other hospital environments and user scenarios, like lavatory visits and showering, in outpatient clinics, in bed transports etc. It is the intention that the robot solution also can be utilized in the primary health care and in patients own home.
I see great potential in equipping bed and treatment areas with patient-lifting robots like this. This will enable better service for our patients and a safer working environment for our employees, says Helle Gaub, Project Director, Projekt Universitetshospital Køge.
Advantageous for both patients and personnel
With the introduction of the new patient-lifting technology in hospitals, including new hospitals like the one in Køge several current challenges are spearheaded and the new robot technology will assist in providing a better working environment for hospital personnel, increased safety for patients and support an optimal use of resources available.
Patient on corridorBecause Multi-Tower Robot has a greater flexibility and mobility than today's overhead lifts, the solution provides improved patient safety and is expected to limit patient accidents, e.g. when patients lose their balance. With improved patient safety, patient-perceived quality levels can be optimized and contribute to a more efficient health care system, by reducing the average length of stay per hospital admission.
The hospitals are experiencing an increased number of patient treatments and a focus on financial efficiency improvements throughout the health care sector. Treatments are carried out by the hospital personnel every day and they are doing a great job but it requires a high level of both physical and mental strength.
Therefore it is extremely important that we are in close dialogue and in collaboration with the operational personnel in developing technological applications, that can assist both personnel in their daily tasks and help patients quickly regain strength. Without the opportunity of close collaboration, which is enabled in Public-Private Partnerships (PPP), it is not possible to develop usable and useful technology like this. It furthermore adds to a better utilization of the resources available in the healthcare sector, says Anja Hald, Senior Business Developer at Blue Ocean Robotics.
About Blue Ocean Robotics
We apply robot technology to create robot solutions and innovation for end-users and new businesses in partnerships.
Featured Product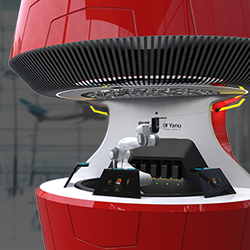 Tune in live on October 12 to be among the first to see what's new in the upcoming release of Solid Edge 2023. Hear real feedback from early access beta users and ask questions and interact with Siemens experts via live chat.