Company to launch relationship with TM Robotics from booth #1668 at this years AUTOMATE Show
ELK GROVE VILLAGE, IL and CLEVELAND, OH - MARCH 27, 2017 - Today TM Robotics, in partnership with Toshiba Machine, announced it has teamed up with ASG, a certified manufacturer, provider, and service center focused on products and automated solutions for assembly. ASG will offer Toshiba Machine robots in both national and international markets. With many projects that require vertical down driving of screws, ASG was looking for a robotic partner that offered high speed, robust solutions, with advanced functionality that is also cost-effective. This partnership will give ASG customers countless opportunities to integrate ASG screw feeding systems with Toshiba Machine SCARA robots.

A division of Jergens, Inc., ASG is headquartered in Cleveland, Ohio, with subsidiaries in Shanghai, China, and Mumbai, India, and sales offices in Mexico and Europe. The company offers a complete line of torque control screwdrivers, workstation accessories, production aides, and precision fastening equipment. In 2015, ASG expanded its three product groups of Assembly, Industrial and Precision Fastening to include ASG Automation - providing custom solutions for complex applications. Its target industries include automotive, aerospace, medical, electronics, energy, and appliance.
"We were introduced to TM Robotics through a mutual customer who selected a Toshiba Machine TH650A SCARA robot for the automation system that they were purchasing from ASG," said Doug Wright, Technical Services Manager at ASG. "Upon doing further research, it quickly became clear that Toshiba Machines flexibility and adaptability would be the perfect addition to our robotic system. Were looking forward to showing our customers the power of the Toshiba Machine SCARA series."
In addition to being a good value for the functionality, another reason ASG partnered with TM Robotics is its stellar customer service. By having a live person on hand to answer questions and walk partners and customers through installation, issues get solved in a timely manner.
"Were continuing the aggressive expansion of our distributor and solution provider program in the United States, with plans to double the amount of partners this year over last year," said Nigel Smith, founder and CEO of TM Robotics. "ASG focuses on a particular niche of the market that weve been hoping to fill for quite some time. Were looking forward to working with their fantastic team."
About TM Robotics
TM Robotics, in partnership with Toshiba Machine, offers a comprehensive range of Toshiba Machine Industrial Robots ideally suited for high-precision assembly, machine loading/unloading and material-handling applications that can be dust proof, clean room, or IP65/67. The companys extensive product line starts with a Cartesian solution available in thousands of combinations, from single actuators to four-axis solutions to six-axis solutions that can include precise vision-control, as well as a complete range of SCARAs, from low cost to the industry-leading SCARA with 1200-mm reach that can carry up to 20 kgs. TM Robotics sells and services robots throughout Europe, Australia, the Middle East, India, Russia, Oceania and Africa, as well as North, Central, and South America. European headquarters are in Hertfordshire, England, and U.S. headquarters are in Elk Grove Village, IL. For more information, visit www.tmrobotics.com or follow the company on Twitter, LinkedIn and YouTube.
About ASG
A Division of Jergens, Inc., ASG has been offering a complete line of products and solutions for assembly since 1976. These include electric, pneumatic, and manual torque control screwdrivers; torque and angle control precision fastening systems; automatic screw feeders and screw presenters; torque testers and calibration services; and custom designed automation equipment, along with a full line of accessories. For more information, visit www.asg-jergens.com.
Featured Product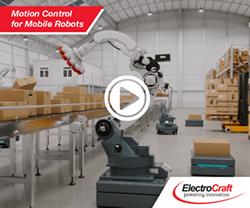 ElectroCraft is showcasing its award-winning mobile robot technology including their powerful and compact wheel drives, high-torque-density brushless DC motors, precision linear actuators as well as servo motor drive technology at a variety of conferences and tradeshows including the Boston Robotics Summit. Robotics Summit is the premier symposium for the sharing of ideas, technology, and market developments for robotic technologies across industries. Beyond a showcase and pitch of product, ElectroCraft is eager to participate in the collaborative discussion of challenges and opportunities that will shape the near and long-term robotic marketplace.