SoftBanks Pepper the Robot, Hanson Robotics Albert Einstein HUBO, NASA House Robotics Team, Movie Prop Robots, Amaetur Robotics and More Descend Upon Silicon Valley April 21-23, 2017
SAN JOSE, Calif. — March 31, 2017 — By popular demand, Silicon Valley Comic Con (SVCC), Steve Wozniaks pop culture and technology expo taking place the weekend of April 21-23, will have robots! As automation and AI become more advanced - and if comics, movies and TV are to be believed - robots will play a key role in the future of humanity, so today SVCC is announcing its lineup of robotics exhibitors, speakers and panel discussions surrounding the current state of robotics and what the future may hold.

"Pop culture has shown us so many potential robots of the future - will they become friends and helpers like R2D2 or Rosie? Will they become threats like Ultron or The Terminator?" said Wozniak. "The potential is vast, and the robotic advances of today are exciting."
"Our event is curated by one of the forefathers of modern computer technology so a robotics exhibit is the perfect fit," added Trip Hunter, CEO of SVCC. "Rest assured, while these machines are highly intelligent, we've taken all the precautionary measures to ensure no AI takeovers will occur at the show!"
From NASA robots and humanoid robots to R2D2 builders clubs, attendees can expect to see the latest and greatest innovators in the robotics space. A full list of SVCC 2017 robotic-themed exhibitors, guests, panels and events can be found below:
ROBOTS @ SVCC
• SoftBank Robotics America (Pepper the Robot)
• Hanson Robotics (Albert Einstein HUBO, Professor Einstein)
• Piaggio Fast Forward (Gita the Robot)
POP CULTURE ROBOTS @ SVCC
• Robby the Robot - the official prop from the Forbidden Planet film will be in SVCCs Prop Museum
• On display in the ScreenUsed Auction Hall ahead of the live and online auction at noon on April 23rd: Bicentennial Man - Andrew's Expanded Head and RoboCop (2014) - Full Sized EM-208 Battle Damaged Robot
EDUCATIONAL & AMATEUR ROBOTICS @ SVCC
• NASA House Robotics Team (in SVCC Kids S.T.E.A.M. Lab)
• R2D2 Builders Club
• San Jose States local SEDS and Robotics Clubs Mars Rover Loch
• SVCC Science Fair will feature student robotics projects on Sunday, April 23
GUESTS & PROGRAMMING
• Simone Giertz - "Queen of Shitty Robots," YouTube star, Swedish inventor and robotics maker enthusiast
• Matt Ebisu - Singularity University, ROBiTs and Cupertinker Space
• PANEL: Robots Among Us: Are We Ready?
• PANEL: Droids and Death Stars: The Science of Star Wars
To learn more about the events robotic activities and purchase tickets, visit: www.svcomiccon.com.
ABOUT SILICON VALLEY COMIC CON
Silicon Valley Comic Con celebrates the Age of the Geek by bringing together Americas two greatest superheroes: pop culture and technology. Featuring top celebrities, comics, independent artists, cosplay, video game creators, consumer electronics, music and apps, Silicon Valley Comic Con is where entertainment and our electronic worlds intersect. The second annual Silicon Valley Comic Con will be hosted at the San Jose Convention Center in San Jose, CA the weekend of April 21-23, 2017.
PRESS ASSETS & MEDIA REGISTRATION: www.svcomiccon.com/press
Featured Product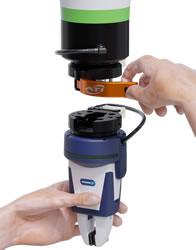 ATI Industrial Automation's MC-10 Manual Tool Changer provides a cost-effective solution for quickly changing tools by hand. Its compact yet robust design is optimized for collaborative robot applications. The ergonomic twist-collar locking mechanism ensures a secure attachment of the tool and easy manual operation with tactile feedback. This Manual Tool Changer can carry payloads of up to 22 lbs and includes multiple fail-safe features that resist vibration and prevent loosening. The MC-10 Manual Tool Changer has integrated air pass-through connections and options to connect electrical utilities if needed. ATI will feature the new MC-10 along with a variety of other robotic demonstrations and product displays at this year's IMTS show in Chicago (Booth #236417).