Ideal for machine tool, packaging, and wash-down applications
Peabody, MA - Harmonic Drive LLC, a leader in high precision motion control introduces FHA-C-H series actuators. Available in four sizes, these new super-flat actuators feature IP65 protection. With IP65 and 480V, the FHA actuator is well suited for machine tool, packaging, and wash-down applications. The new product will be on display at Automate 2017 in Chicago!

FHA-C-H rotary servo actuators utilize Harmonic Drive® precision gears combined with a performance matched brushless servo motor. Encoder options now include EnDat® & HIPERFACE®. The FHA series is designed to operate with a wide range of third-party servo drives including Bosch, Mitsubishi, Siemens, and Kollmorgen.
The FHA has a low-profile form factor and features a hollow-output shaft. This hollow shaft feature may be used to pass cables, tubing or lasers through the axis of rotation.
Gear Ratios of 50:1, 100:1, and 160:1 are available in each of the four sizes, offering the machine designer a wide selection of speed and torque specifications. Like all Harmonic Drive® actuators, the FHA-C-H actuators are highly reliable and maintain zero backlash for the life of the gear.
New FHA-C-H Features:
IP65 Rating
480VAC
EnDat® & HIPERFACE® Encoder Protocols
DESINA style flex rated cables
Visit us at Automate 2017 in Chicago at booth 847 for a live demo!
About Harmonic Drive LLC
Harmonic Drive, LLC engineers and manufactures precision servo actuators, gearheads and gear component sets. We work closely with both Fortune 500 and companies of all sizes to understand their application requirements and provide a standard or custom-engineered solution to enable the success of their design project. The majority of the products sold by Harmonic Drive, LLC are proudly made at our manufacturing facility in Peabody, Massachusetts. Harmonic Drive Group Companies in, Japan (Harmonic Drive Systems, Inc.) and Germany (Harmonic Drive AG) provide additional products. We have shared core values, product designs and quality standards. State of the art manufacturing facilities in the US, Japan and Germany enables us to locally serve the needs of our global customers.
With over 50 years of experience, our expert engineering and production teams develop enabling technologies and products to meet the needs of an evolving motion control market. We are very proud of our outstanding company history. Our high-precision, zero-backlash Harmonic Drive® gears and Harmonic Planetary® gears have, and continue to play critical roles in robotics, spaceflight applications, semiconductor manufacturing equipment, factory automation equipment, medical diagnostics and surgical robotics.
Featured Product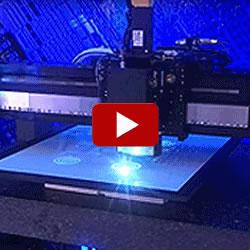 A traditional gantry system employs X-Y or X-Y-Z range of motion. Mounted on a base plate, usually granite, 2 parallel rails constitute the synchronized Y axis motion while the cross axis (bridge axis) provides the X motion. A vertical axis can be added on the bridge for the Z motion. A Split Bridge system can be less complex than a traditional gantry system because synchronization of the two parallel linear motors is not required. Both systems are used in industrial production, testing, and additive manufacturing.