JDA partner and innovative robotics fulfillment solution provider partner to deliver advanced supply chain and warehouse operations solutions to joint clients.
4SIGHT Supply Chain Group, a leading supply chain consulting, engineering and IT services provider, and Locus Robotics, an innovative e-commerce fulfillment robotics company, today announced a strategic partnership to leverage Locuss turnkey, autonomous, robotics solution to transform warehouse operations and significantly improve productivity to their clients.

4SIGHT and Locus will be exhibiting together for the first time at JDA FOCUS 2017 in Las Vegas April 25 - 28, showcasing their integration capabilities and collaborative robotics, and highlight successful project experience.
Together, 4SIGHT and Locus will leverage robotics technology to bring supply chain innovation and warehouse automation to their joint clients and partners. This technology addresses todays distribution challenges that include rising labor costs and workforce availability, while avoiding heavy capital investments for traditional materials handling solutions.
"Our partnership with Locus allows us to offer innovative supply chain technology that is more flexible and can be deployed at a fraction of the cost, with comparable benefits and ROI when compared to other materials handling automation solutions," said Frank Camean, president and chief executive officer of 4SIGHT. "The Locus technology, combined with systems integration built by 4SIGHT, aligns seamlessly with existing Warehouse Management Systems with no disruption and almost no training. We are excited about bringing this proven and innovative solution to our clients."
"This is the first partnership weve announced at this level," said Rick Faulk, chief executive officer of Locus Robotics. "As a JDA partner, 4SIGHT is a recognized leader in the fulfillment automation space, and they have demonstrated the vision to recognize the value of collaborative robotics. Their expertise helps us deliver a timely and seamless deployment experience to our customers, and Im looking forward to working with 4SIGHT as we continue to grow."
About 4SIGHT Supply Chain Group
4SIGHT specializes in supply chain consulting, engineering and information technology. Our seasoned professionals average more than 19 years of experience helping companies across all industries solve their distribution, fulfillment and transportation challenges. As a testament to the value our clients place on our expertise, experience and integrity, 4SIGHT has received multiple industry awards. For more information, please email us at in4mation(at)go4sight.com or visit http://www.go4sight.com.
About Locus Robotics
Locus Robotics transforms your productivity without transforming your warehouse. Locuss innovative, autonomous robots work collaboratively alongside workers, helping them pick 2x-5x faster, with near-100% accuracy, and less labor compared to traditional picking systems. This proven, powerful technology integrates easily into existing warehouse infrastructure without disrupting workflows. For more information, visit http://www.locusrobotics.com.
Featured Product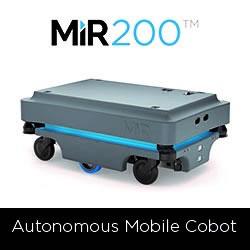 MiR200 is a safe, cost-effective mobile robot that automates your internal transportation. The robot optimizes workflows, freeing staff resources so you can increase productivity and reduce costs. MiR200 safely maneuvers around people and obstacles, through doorways and in and out of lifts. You can download CAD files of the building directly to the robot, or program it with the simple, web-based interface that requires no prior programming experience. With its fast implementation, the robots offers a fast ROI, with payback in as little as a year.