Global company recognized as inaugural winner in tooling components category
Auburn Hills, Mich. (June 22, 2017) - DESTACO, the industrys leading global provider of high-performance automation, workholding and containment solutions, recently received "Tooling Components Vendor of the Year" honors from MSC Industrial Supply Co., a premier distributor of Metalworking and Maintenance, Repair and Operations products and services to industrial customers throughout North America.

The award recognizes DESTACO for excellence in sales performance, profitability, product innovation, marketing, field support, operational performance and outstanding customer service in 2016. DESTACO is the inaugural winner of MSCs Vendor of the Year award in the tooling components category as a supplier of manual and pneumatic clamps.
"MSC works hard to bring deep expertise and insight to help our manufacturing customers keep their operations up and running and improve their efficiency and performance. Our supplier partners play a critical role in bringing value to customers in this way," said Ryan Esposito, Vice President-Metalworking Product Management for MSC. "The DESTACO team did an outstanding job of bringing economic value to our customers in 2016 and we are pleased to recognize their efforts with our Vendor of the Year award in the tooling components category."
"Collaboration is the key component to the success we saw with MSC," said Stefan Eggers, DESTACOs Vice President of Global Sales and Service. "In pairing our entire team with MSCs tooling components team, we were able to work proactively and provide additional value with faster service, special product needs and local assistance, which enabled us to overcome customer support challenges quickly and effectively."
DESTACO offers the industrys most comprehensive workholding product line across the globe. Committed to customer success, DESTACOs technical experts anticipate evolving markets to create custom solutions that overcome individual challenges for a wide range of applications. For more information on DESTACOs customized solutions, visit destaco.com.
About DESTACO
DESTACO, a Dover company, is a global leader in the design and manufacture of high-performance automation, workholding and remote-handling solutions. The company serves customers in a variety of end-markets, including the automotive, life sciences, consumer goods, packaging, aerospace and nuclear sectors.
Built on a legacy of more than 100 years, DESTACO offers a comprehensive portfolio of products designed to engineer precise movement, placement and control solutions that drive productivity and uptime for manufacturers around the world. The DESTACO family of products consists of industry-leading brands such as DESTACO Manual and Power Clamps, End Effectors, CAMCO™ and Ferguson™ Indexers, Robohand™ Grippers and CRL™ Manipulators and Transfer Ports.
DESTACO is based in Auburn Hills, MI, and operates globally through approximately 800 employees across 13 locations.
The Dover Corporation is a diversified global manufacturer with annual revenues of $7 billion. The company delivers innovative equipment and components, specialty systems and support services through four major operating segments: Energy, Engineered Systems, Fluids, and Refrigeration & Food Equipment. Headquartered in Downers Grove, IL, Dover trades on the New York Stock Exchange under "DOV."
More information is available at destaco.com and dovercorporation.com.
Featured Product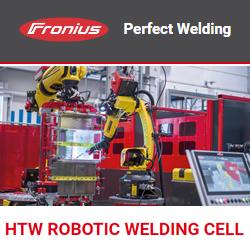 We aspire to produce more than just welding systems, which is why we are the innovation leader for arc welding and are constantly developing welding processes further. In addition to welding technology for robot applications, we offer solutions for manual gas shielded arc welding, for MIG/MAG, TIG, and MMA welding processes. We also implement automated, complete welding solutions tailored to customer requirements in the field of welding automation. After all, welding creates connections - between metals, between industries, and between people. Connected by the arc, by passion, by the beat of welding.