NASA Engages Specialty Engineering Firm COSM for Key Design Responsibilities
IPSWICH, Mass., July 25, 2017 /PRNewswire/ -- COSM Advanced Manufacturing Systems LLC has been selected to design an electron beam system for an in-space autonomous assembly program. The work will be funded by a contract from NASA's Langley Research Center in partnership with Orbital ATK, NASA's Glenn Research Center, and the U.S. Naval Research Laboratory. (For more information about the program, email: info@cosmtd.com.)

Under NASA's Space Technology Mission Directorate (STMD), COSM will join a team of companies in a public-private partnership to establish a "Commercial Infrastructure for Robotic Assembly and Services" (CIRAS) in space. The CIRAS program will advance key technologies for in-orbit manufacturing and assembly of large space structures that will help the agency meet its goals for robotic and human exploration of the solar system.
"The assembly and fabrication of structures in space under autonomous robotic control, is of course extremely challenging. Our effort focuses on development of the electron gun and optics and beam control and metrology systems for this application," said Richard Comunale, Founder and President of COSM. "We are excited and proud of the opportunity to bring our unique expertise to this project."
This effort builds on COSM's collaboration with NASA Langley Research Center's Electron Beam Free Form Fabrication (EBF3) program, which uses focused electron beams to perform additive manufacturing (3D printing) of metals critical to the space and aerospace industry, including:
Titanium
Inconel
Aluminum
Under this collaboration, COSM has developed enabling technology for an advanced Electron Beam 3D metal printing system. This new approach provides in-situ metrology and adaptive process control for end users in large space, aerospace, and commercial applications.
About COSM Advanced Manufacturing Systems
COSM Advanced Manufacturing Systems is a privately held research engineering, and manufacturing firm, based in Ipswich, Massachusetts. Founded in 2011, the company's team has extensive technology development experience across multiple disciplines and industries, with concentration in charged particle beam and thin film CVD systems for semiconductor, flat panel and LED manufacturing systems, as well as 3D metal additive manufacturing. Visit https://www.cosmtd.com for more information.
Featured Product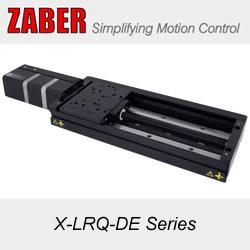 Zaber's X-LRQ-DE Series of linear stages have high stiffness, load, and lifetime capabilities in a compact size. The integrated linear encoder combined with stage calibration provides high accuracy positioning over the full travel of the device. At 36 mm high, these stages are excellent for applications where a low profile is required. The X-LRQ-DE's innovative design allows speeds up to 205 mm/s and loads up to 100 kg. Like all Zaber products, the X-LRQ-DE Series is designed for easy set-up and operation.