New Robot Features Amazons Alexa Voice Service and Smart Home Control
BERLIN--(BUSINESS WIRE)--Today at IFA 2017, QIHAN Technology Company (QIHAN) introduced Sanbot Nano, a home assistant robot equipped with Amazons Alexa Voice Service. Building on QIHANs success in delivering "robotics-as-a-service" solutions, the intelligent, cloud-enabled robot features voice capabilities via Alexa, smart home control and remote monitoring capabilities, delivering centralized management and security to households around the world. Sanbot Nano currently supports English and German languages and will available for purchase starting in October for $2,800.

"The world is captivated by the emergence of robotic developments and were constantly challenging ourselves to making the most amazing robot experiences possible," said Ryan Wu, CMO, QIHAN. "With Sanbot Elfs breakthrough growth in the retail, hospitality, public service and government industries, we are excited to introduce a robot for the home. Sanbot Nanos customized capabilities will make every family feel like they have a personal assistant."
Sanbot Nano stands at 2.7 feet tall and is equipped with over 50 sensors to avoid objects in its way, recognize voices and know when someone enters the room. Sanbot Nano is also equipped with advanced features for the home, including:
Voice Capabilities: Through Amazons Alexa Voice Service, Sanbot Nano can order pizza, request a car, track fitness stats, control the TV, play music from todays leading streaming providers and more.
Smart Home Control: Sanbot Nano pairs with smart home devices from the worlds most popular connected home brands, enabling families to control lights, thermostats and home appliances.
Remote Monitoring: QIHANs mobile Q-Link App allows families to live-stream video and control Sanbot Nano from anywhere in the world.
In addition to Sanbot Nanos new voice capabilities and smart home control features, the new mini robot inherits many popular features from QIHANs Sanbot Elf including the Android SDK, Sanbot App Store and automatic charging.
Sanbot Nano demos will be available during IFA 2017, located at the Messe Center - Berlin ExpoCenter City, Hall 7.1A, Booth: 101.
For more information about QIHANs Sanbot Nano, please visit: http://en.sanbot.com/nano.html.
About QIHAN Technology Co. Ltd.
Headquartered in Shenzhen, China and founded in 2006, QIHAN Technology Co. Ltd. is a company focused on innovations in robotics, artificial intelligence (AI), and data analysis. Its proprietary solutions, QIHAN Cloud, Sanbot, and Q-Link, utilize next-generation robotics and artificial intelligent (AI) technologies to help improve the lives of its customers.
Featured Product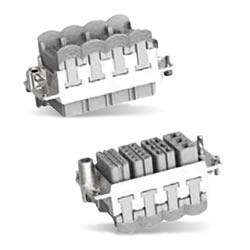 TE Connectivity's HDC Dynamic Module integrates the Dynamic series flexible signal and power solutions and the HDC Heavy Duty Connector series to form a solution of harsh environment connectors. TE's HDC Dynamic Module offers the top features of the two series. It uses the contact concept of the Dynamic series, with its proven performance in industrial uses and its cost effectiveness compared to legacy cutting contacts. The HDC connectors make the module a reliable solution for harsh environments. TE's HDC Dynamic Module supports 2A/32V to 40A/300V performance and 3 positions to 48 positions.