Brenton displays an application customized for the food industry integrating the vision-guided FANUC CR-7iA/L. (Brenton Engineering Pack Expo Booth # C-3025)
Taking place September 25-27 at Pack Expo 2017, Brenton, powered by Pro Mach, plans to demonstrate its industry-leading integration capabilities of existing end-of-line equipment with collaborative robotics, providing customized solutions for the food industry. (Brenton Engineering Pack Expo Booth # C-3025)

The deep robotic programming and integrating capabilities that Brenton robotic packaging equipment offers excel in vision guided pick-and-place for high-speed packing of food, beverages, medical supplies, and other consumer products. Brenton delivers flexible, high-speed automation for the unsurpassed reliability, increased efficiency, safety, and labor savings manufacturers need -- and the small footprint and minimal environmental impact they want.
Integrated System Functionality
One of the largest providers of FANUC robotic packaging systems in North America, Brenton displays the CR-7iA/L collaborative robot with integral vision that picks trays off a conveyor, orients them, and feeds them to a BrentonPro Mach-2 side load case packer. Key features include an integrated HMI which enables the conventional case packer and robot to operate as a unified system and provides dual robotic picking speeds for maximum throughput. The vision system plugs directly into the robot controller, eliminating the need for a separate vision controller. With proven sensor technology, the CR-7iA/L is designed to work with humans in a shared workspace without safety fences in a 24/7 environment.
Delivering Optimal Performance
The FANUC CR-7iA/L is paired with the Mach-2 case packer, with a small footprint and flexible, customizable design that meets any specifications, making it one of the best-selling units Brenton offers. Utilizing indexing motion, the Mach-2 efficiently loads up to 35 cases per minute. Cases accommodated include RSC, HSC, tray, wrap-around, knock-down, and harness for cartons, bottles, cans, and tubs. Additionally, the servo-controlled Mach-2 case packer minimizes environmental impact by reducing energy consumption, product and packaging material waste.
Experience an Active Demo
"Pack Expo attendees are invited to stop by Brentons booth to watch this innovative
integrative collaborative robotics solution," said Jason Enninga, vice president of sales at Brenton. "Ask our expert staff about the safety and operational features incorporated into the demo, and get answers to your questions about using fenced and unfenced robotics in different applications. We specialize in customized solutions."
Many companies advertise FANUC integration into their robotic packaging systems, but only 4% (including Brenton) are Certified Servicing Integrators (CSI).
Be sure to stop by the Brenton Pack Expo Booth #C-3025 to see this innovative collaborative robotics solution in action. For more information on Brenton, call 800-535-2730 and visit http://www.brentonengineering.com.
About Brenton
Brenton designs, manufactures, and integrates a wide range of end-of-line packaging equipment. Brenton is a packaging industry leader in servo-technology applications and integrating automated solutions for complex packaging needs. The companys extensive product line includes case packers, shrink wrappers, palletizers, and robotic solutions for most end-of-line packaging and material handling needs. Brenton is one of the largest providers of FANUC robotic packaging systems in North America. All Brenton products are designed and manufactured at state-of-the-art facilities in Minnesota. http://www.brentonengineering.com.
About Pro Mach
Pro Mach is a leading provider of integrated packaging and processing products and solutions for food, beverage, consumer goods, pharmaceutical, and other diverse companies. Through multiple brands, Pro Mach provides product packaging and processing equipment, PMMI certified trainers, installation, parts, and service in Bottling & Capping, Primary Packaging, Pharmaceutical Packaging, Flexible Packaging, Material Handling, Labeling & Coding, and End of Line, as well as Integrated Solutions for complete packaging lines.
Pro Mach has a diverse customer base, from Fortune 500 companies to smaller, privately held businesses worldwide, which depend on reliable, flexible, technologically advanced equipment and integrated solutions. Pro Mach is headquartered near Cincinnati, Ohio, with manufacturing facilities and offices throughout the United States, Canada, Mexico, Europe, United Arab Emirates, and China. For more information about Pro Mach, please visit http://www.ProMachInc.com.
Featured Product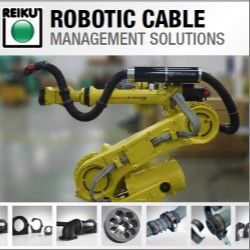 REIKU's Cable Saver™ Solution eliminates downtime, loss of revenue, expensive cable and hose replacement costs, maintenance labor costs. It's available in three sizes 36, 52 and 70 mm. All of the robots cables and hoses are protected when routed through the Cable Saver™ corrugated tubing.The Cable Saver™ uses a spring retraction system housed inside the Energy Tube™ to keep this service loop out of harms way in safe location at the rear of the Robot when not required. The Cable Saver™ is a COMPLETE solution for any make or model of robot. It installs quickly-on either side of the robot and has been tested to resist over 15 million repetitive cycles. REIKU is committed to providing the most modular, effective options for ensuring your robotic components operate without downtime due to cable management. www.CableSaver.com