Company's technology presented as state-of-the-art Military advancement by Israel's Ministry of Defense
GULF BREEZE, Fla., Sept. 13, 2017 /PRNewswire/ -- Duke Robotics, Inc., a developer of advanced robotic systems, announced that Israel's Ministry of Defense has endorsed Duke Robotics' TIKAD drone as innovative future battlefield technology.

The Administration for the Development of Weapons (ADW) at Israel's Ministry of Defense, which has similar tasks to those of DARPA (Defense Advanced Research Projects Agency) at the U.S. Department of Defense, recently unveiled a number of state-of-the-art military developments, which they called "Weapons of the Future," set to be implemented into Israel Defense Forces service on land, sea, and air, including Duke Robotics' TIKAD, featured prominently in this Israeli Defense Ministry video: (https://youtu.be/cqMbsQbJL3o).
"We are pleased with the endorsement of the Israeli ADW (Administration for the Development of Weapons at the Ministry of Defense) for our technology and its capability in providing a real solution in saving lives and changing the course of the modern battlefield," said Raziel Atuar, Duke Robotics CEO, former Israeli Special Mission Unit commander.
With the mission to save lives and to empower troops with immediate aerial support, Duke Robotics designed the TIKAD — a fully robotic weaponry system on an airborne platform, which they refer to as The Future Soldier. The company announced in August that it's offering up to $15 Million of common stock qualified by the SEC under Tier II of Regulation A+. Now, anyone, not just wealthy investors, can purchase stock and own a part of this award-winning company. See DukeFutureSoldier.com.
As the classic army versus army confrontation on the battlefield has become increasingly rare, guerrilla warfare is now more commonplace. Developed by former Israeli military and Special Mission Unit officers to address warfare's changing landscape, the TIKAD is remotely operated by troops, user-friendly and easily carried into the field. The company's proprietary robotic stabilization technology enables the TIKAD to absorb the recoil of a weapon, allowing for pinpoint targeting and shooting accuracy that can protect troops in a variety of dangerous situations. By reducing the need for ground troops, the TIKAD represents a major step towards minimizing military and civilian casualties and the technology is gaining support on a global basis.
Learn more about Duke Robotics and investing in this disruptive company through their Regulation A+ Equity Crowdfunding investment opportunity at DukeFutureSoldier.com.
About Duke Robotics
Duke Robotics, Inc. is a developer of advanced robotic systems technology developed in Israel. With the mission to save lives and to empower troops with immediate aerial support, Duke Robotics has developed the TIKAD — The Future Soldier. Duke Robotics innovative robotic system is adaptable to other military platforms, such as land vehicles, marine boats, etc. as well as adaptable to civilian purposes.
Duke Robotics - NO BOOTS ON THE GROUND™
Featured Product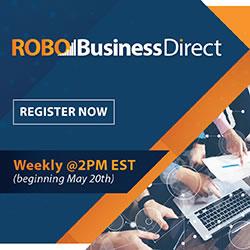 RoboBusiness Direct is built to foster robotics innovation in all its forms, expand robotics business opportunities, and build a community of like-minded problem solvers with the goal of driving the growth of robotics businesses. More than a webinar or virtual event, RoboBusiness Direct is an ongoing, integrated series of presentations and media coverage delivered by brightest minds from the leading robotics and automation companies from around the world - Nuro, FedEx, Lockheed Martin, Samsung, Siemens and more.