• Intelligrated is now Honeywell Intelligrated • Combined name and logo leverage brand strengths, support integrated path forward • Integration process includes expanding resources for research and development, greater portfolio of connected solutions, expansion into high-growth regions
CINCINNATI, Sept. 26, 2017 — Honeywell (NYSE: HON) announces the rebranding of its Intelligrated business, changing the name to Honeywell Intelligrated and revealing a new logo.

The rebranding was announced at the PACK EXPO Las Vegas trade show. Honeywell Intelligrated is part of Honeywells Safety and Productivity Solutions business group, a global leader in products, software and connected solutions that improve productivity, workplace safety and asset performance.
"This new name and logo allow Intelligrated to leverage Honeywells strong brand and business reputation, especially with new customers and regions Intelligrated has not served previously," said John Waldron, president and CEO, Honeywell Safety and Productivity Solutions. "At the same time, incorporating the existing Intelligrated logo leverages the legacy and reputation the business has built since its inception more than 16 years ago."
Since Honeywell completed its acquisition of Intelligrated in August 2016, the integration process has focused on ways to leverage complementary strengths to better serve customers and enhance the businesses. This includes developing connected solutions that enable customers to leverage data for greater efficiency, access to a broader portfolio of productivity, workflow and automation solutions, more resources for research and development, and expansion into Europe, Asia and other high-growth regions. In addition, Pieter Krynauw has assumed the role of president and is responsible for leading and growing the business in new locations around the world.
"The rebrand reflects a shared future in which we capitalize on the success and values of both entities to continue our strong growth trajectory," said Krynauw.
Chris Cole, an Intelligrated co-founder who continues to advise the business, said, "Over the past year, weve carefully evaluated and are now pursuing several ways to leverage Honeywells financial strength and process, recognized global brand and leadership in adjacent markets to accelerate our original vision and continue to grow as a global leader in a dynamic, challenging market."
Honeywell Intelligrated designs, manufactures, installs and integrates complete material handling automation solutions tailored to the specific operational requirements of leading retailers, manufacturers and logistics providers. Solutions include industry-leading automation equipment such as conveyor, sortation, palletizing and robotic systems, combined with advanced software and controls. Honeywell Intelligrated backs each installation with complete lifecycle service and 24X7 technical support.
The business serves more than 60 of the top 100 global retailers, including more than half of the top 100 internet retailers. More information on Honeywell Intelligrated can be found at http://www.intelligrated.com.
Honeywell Safety and Productivity Solutions (SPS) provides products, software and connected solutions that improve productivity, workplace safety and asset performance for our customers across the globe. We deliver on this promise through industry-leading mobile devices, software, cloud technology and automation solutions, the broadest range of personal protective equipment and gas detection technology, and custom-engineered sensors, switches and controls. We also manufacture and sell a broad portfolio of footwear for work, play and outdoor activities, including XtraTuf™ and Muck Boot™ brand footwear.
Honeywell (www.honeywell.com) is a Fortune 100 software-industrial company that delivers industry specific solutions that include aerospace and automotive products and services; control technologies for buildings, homes, and industry; and performance materials globally. Our technologies help everything from aircraft, cars, homes and buildings, manufacturing plants, supply chains, and workers become more connected to make our world smarter, safer, and more sustainable. For more news and information on Honeywell, please visit www.honeywell.com/newsroom.
###
Featured Product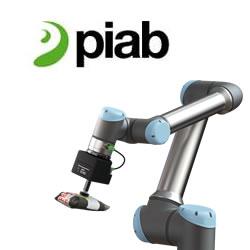 Piab's Kenos KCS gripper enables a collaborative robot to handle just about anything at any time. Combining Piab's proprietary air-driven COAX vacuum technology with an easily replaceable technical foam that molds itself around any surface or shape, the gripper can be used to safely grip, lift and handle any object. Standard interface (ISO) adapters enable the whole unit to be attached to any cobot type on the market with a body made in a lightweight 3D printed material. Approved by Universal Robots as a UR+ end effector.