The new DESTACO Deepdish Series Vacuum Cups feature an all new bell-shaped body design, available in three sizes, 65, 90 and 110 mm.
Auburn Hills, Mich. (October 24, 2017) - DESTACO, the industrys leading global provider of precision movement, positioning and control solutions in industrial automation, is leading the way in vacuum-cup innovation with the introduction of its new Deepdish Series Vacuum Cups, which are designed to maximize grip performance on contoured and oily surfaces.

The new DESTACO Deepdish Series Vacuum Cups feature an all new bell-shaped body design, available in three sizes, 65, 90 and 110 mm. Unique, molded-in gussets prevent the cup edges from rolling up on convex surfaces while the thin, pliable design and special inner tread pattern allow the cups to effectively adhere to flat, convex, concave, domed and oily surfaces for maximum grip performance.
"The addition of the Deepdish Series to our vacuum cup line instantly expands the number of applications and uses for our cups. These new cups establish a whole new standard of operational reliability, longevity and productivity for our customers pick-and-place parts handling needs," stated Matt Girand, Vice President, Global Research, Development & Engineering of DESTACO. "Were constantly striving to innovate new ways to help manufacturers improve their production processes, and the addition of the Deepdish Vacuum Cups illustrates this commitment."
Another key attribute that sets the new DESTACO Deepdish cups apart from all others is the polyurethane materials-of-construction. Polyurethane provides superior wear-resistance when compared to rubber to promote longer service life and reduced maintenance. In addition, polyurethane will not leave any marks on handled objects and has fantastic elastic memory, even after hundreds of thousands of cycles. To top off this robust feature set, the new DESTACO Deepdish cups have a durometer of 60 (PU60, translucent red in color). The 60 durometer makes it easier to pick up highly contoured panels, while also being capable of withstanding the elevated shear forces that are created by increased acceleration and deceleration rates.
Mounting options include traditional 3/8" imperial NPT, 3/8" Metric-G and 1.25" square T-slot, along with a new lightweight plastic 3/8" Metric-G model. All mounts are interchangeable with existing standard mounts. Installation involves unscrewing the old mount and replacing it with a new one, at most a 10-second task.
DESTACOs new Deepdish Series Vacuum Cups will be on display in Booth No. 313 at The Assembly Show in Rosemont, IL, which will be held from Oct. 24-26.
For more information about DESTACOs Deepdish Series Vacuum Cups, please visit destaco.com.
About DESTACO
DESTACO, a Dover company, is a global leader in the design and manufacture of high-performance automation, workholding and remote-handling solutions. The company serves customers in a variety of end-markets, including the automotive, life sciences, consumer packaged goods, aerospace, industrial and nuclear sectors.
Built on a legacy of more than 100 years, DESTACO offers a comprehensive portfolio of products designed to engineer precise movement, placement and control solutions that drive productivity and uptime for manufacturers around the world. The DESTACO family of products consists of industry-leading brands such as DESTACO Manual Clamps, Power Clamps, and End Effectors; CAMCO™ and Ferguson™ Indexers; Robohand™ Grippers; and CRL™ Manipulators and Transfer Ports.
DESTACO is based in Auburn Hills, Michigan, U.S.A. The company has more than 800 employees with 13 locations, in 9 countries, across the Americas, Europe and Asia.
DESTACO is part of Dover Corporation, a diversified global manufacturer with annual revenues of $7 billion. The company delivers innovative equipment and components, specialty systems and support services through four major operating segments: Energy, Engineered Systems, Fluids, and Refrigeration & Food Equipment. Headquartered in Downers Grove, IL, (NYSE: DOV)
More information is available at destaco.com and dovercorporation.com.
Featured Product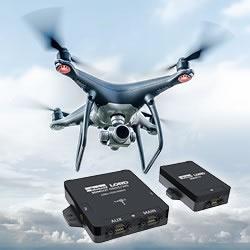 The new complete inertial navigation solution comes with GNSS/INS 3DMGQ7 sensor, 3DMRTK correction modem and real time SensorCloud RTK correction network. The sensor comes with Dual antenna GNSS, tactical grade IMU with centimeter-level accuracy with RTK. Low profile and light weight at 78 grams, this sensor is The sensor is optimized for size and weight in Unmanned Ground Vehicles, mobile robots and autonomous vehicles. The network interface 3DMRTK modem is seamlessly integrated into the 3DMGQ7 sensor supports industry-standard NMEA and RTCM 3.1 protocols. The network RTK support comes with cellular data plan. The SensorCloud RTK is a cloud-based RTK correction system with private encrypted data stream. Check out our G Series and C Series OEM products.