Company to host live demonstrations of system's increased capabilities at American Society of Health-System Pharmacists Midyear Clinical Meeting and Exhibition from December 4 to 6
ARxIUM, an industry-leading developer of pharmacy automation, workflow and consulting solutions, today announced several new features for its RIVA IV compounding system which advances the companys Pharmacy 4.0 initiative. The applications further improve patient and staff safety, medication accuracy and pharmacy workflow. The system now includes bi-directional interface capabilities which allow RIVA to communicate with other pharmacy systems.

Additional features include RIVAs multi-language interface and ability to produce customizable labels and barcodes on compounded sterile preparations (CSPs). Also, the system can handle multiple types of closed-system transfer devices (CSTDs) during IV compounding and provide enhanced business intelligence and web-based analytics and reporting.
"RIVAs upgraded capabilities demonstrate our commitment to Pharmacy 4.0, our first-to-market initiative that seamlessly joins clinical pharmacy, central production and automation advancements," said Dr. Niels Erik Hansen, president and CEO of ARxIUM. "This approach brings industry-like advancements to the pharmacy and combines automation and interactive data exchange processes to address increasing demands in real-time. The additional features are great examples of Pharmacy 4.0 concepts that provide open interface, information transparency and decentralized decision-making capabilities. As a result, the advancements improve resource optimization and medication production and deliver innovative pharmacy value chain solutions."
RIVAs bi-directional interface provides interoperability with multi-platform IV workflow systems to assist in central ordering, inventory management and other pharmacy needs. Communication between RIVA and the systems significantly improves efficiencies and workflow. For example, RIVA can receive medication orders from other IV workflow systems and report back CSP data and inventory usage to support decentralized decision-making across the systems.
In addition, RIVA offers another Pharmacy 4.0 concept by providing users with multi-language options for end-to-end localization with hospital interfaces, reporting and nurse-ready labels and barcodes on CSPs without the need for custom software development. Customers also have the ability to select and print CSP patient- or pharmacy-specific label designs and barcodes. In fact, pharmacies can select from a catalog of label designs and customize information on printed labels as needed.
For instance, labels could include messages about dangerous drugs, expiration dates, storage conditions and other critical information to ensure patient safety and effective inventory management. Most importantly, RIVA automatically prints, applies and verifies medication labels.
Furthermore, RIVA has expanded its capability to handle different types of CSTDs. This improved feature ensures patient and staff safety and provides pharmacists greater purchasing flexibility and other operational advantages. The systems enhanced business intelligence capabilities and web-based analytics and reporting demonstrate additional Pharmacy 4.0 concepts to increase efficiency and productivity.
At the 2017 ASHP Midyear Clinical Meeting and Exhibition in Orlando from December 4 to 6, ARxIUM will be exhibiting RIVA and other award-winning automated pharmacy technologies, such as RxWorks, FastPak Elite and MedSelect Flex, at booth 441. This meeting will mark the first time the current version of RIVA has ever been on public display. In addition, attendees will have the opportunity to see live system demonstrations (including RIVAs newest features) and speak with ARxIUMs leadership team about the companys Pharmacy 4.0 initiative and other system updates.
About ARxIUM
Based in Winnipeg, Manitoba and Buffalo Grove, Illinois, ARxIUM delivers best-in-class technology and unparalleled expertise to help pharmacies of all sizes improve safety, productivity and efficiency. The company provides scalable, comprehensive solutions for every segment of the pharmacy market. ARxIUMs offerings include automated compounding, packaging and dispensing, compliance packaging management, inventory control and storage, workflow and scheduling software, production and workflow design, and technical consulting and implementation assistance, among other services. For more information, visit www.arxium.com.
Featured Product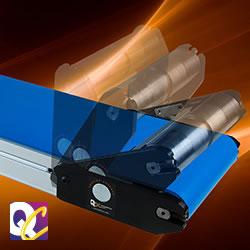 AS40 Conveyors are designed for ease of use and simple integration with robotic applications. Built on a rigid aluminum frame, they feature tee slots for rapid accessory mounting and a tail that flips up at the push of a button for easy under-belt cleaning and belt changes. Nosebar tails are available for transferring small parts between conveyors. All conveyors include a 10 Year Warranty and most are available with a fast five day lead time.