-Full Details of Arcade-Themed Challenge Unveiled to More Than 91,000 High School Students Worldwide at the 2018 FIRST® Robotics Competition Season Kickoff -Governor Chris Sununu, Senator Maggie Hassan and Inventor Dean Kamen encouraged students to explore the innovation process and be gracious citizens -Over 26,000 STEM professionals, educators, and others to mentor students in 27 countries
MANCHESTER, N.H.--(BUSINESS WIRE)--Inventor and FIRST® Founder Dean Kamen launched the 2018 FIRST® Robotics Competition season today with the Kickoff of a new robotics game called FIRST® POWER UPSM before a crowd of more than 1,000 people, including Governor Chris Sununu and Senator Maggie Hassan (D-N.H.), at Southern New Hampshire University in Manchester, New Hampshire, hometown of FIRST Headquarters. More than 91,000 high-school students on 3,647 teams at 137 venues around the globe joined the 2018 Kickoff via Twitch Live Broadcast.

"Its not about the robots - its never been about the robots," said Dean Kamen, president of DEKA Research & Development. "We are not using kids to build robots. We are using robots to build kids."
FIRST POWER UP finds FIRST Robotics Competition teams trapped in an 8-bit video game. Each three-team alliance has three ways to help defeat the boss: Tipping the scale or the alliances switch in their favor to earn points, exchanging power cubes for power ups (force, boost, and levitate) to gain a temporary advantage during the match, and climbing the scale tower to face the boss. The alliance with the highest score at the end of the match, which includes autonomous and teleoperated periods, defeats the boss and wins the game.
At todays Kickoff, teams were shown the FIRST POWER UP game field and challenge details for the first time, and received the Kickoff Kit from the Kit of Parts, which is made up of motors, batteries, control system components, construction materials, and a mix of additional automation components - with limited instructions.
Working with adult mentors, students have six weeks to design, build, program, and test their robots to meet the seasons engineering challenge. Once these young inventors build a robot, their teams will participate in one or more of the global 158 Regional and District events that measure the effectiveness of each robot, the power of collaboration, and the determination of students.
By participating in FIRST, students gain confidence to explore the innovation process while learning valuable science, engineering, technology, teamwork, and problem-solving skills. FIRST Robotics Competition participants are eligible to apply for more than $50 million in FIRST Scholarships from leading colleges and universities. Students also learn and apply the FIRST ethos of Gracious Professionalism®.
"Just as you apply Gracious Professionalism to this competition, we need you to apply it in your goals as citizens," Senator Hassan told the students in New Hampshire. "We need gracious citizens to move forward because what FIRST teaches us more than anything else is that life and discovery is not a zero-sum game."
Governor Sununu celebrated the willingness of FIRST participants to innovate. "The robots are great, the competition is great, but what FIRST is all about is the kids that step up, that are open to something they havent explored before, that can try something they havent tried before," he said.
The 2018 FIRST Robotics Competition Kickoff event is an opportunity for teams from all over the world to come together as a community to share in the excitement of seeing the new game unveiled. Teams at local Kickoffs in Australia, Canada, China, Dominican Republic, Israel, Mexico, Turkey, and the United States watched the proceedings via live broadcast.
For a replay of the Kickoff broadcast, click here.
To find FIRST Robotics Competition events and/or teams in your area, visit http://www.firstinspires.org/team-event-search.
About FIRST®
Accomplished inventor Dean Kamen founded FIRST® (For Inspiration and Recognition of Science and Technology) in 1989 to inspire an appreciation of science and technology in young people. Based in Manchester, N.H., FIRST designs accessible, innovative programs to build self-confidence, knowledge, and life skills while motivating young people to pursue opportunities in science, technology, and engineering. With support from over 200 of the Fortune 500 companies and more than $50 million in college scholarships, the not-for-profit organization hosts the FIRST® Robotics Competition for students in Grades 9-12; FIRST® Tech Challenge for Grades 7-12; FIRST® LEGO® League for Grades 4-8; and FIRST® LEGO® League Jr. for Grades K-4. Gracious Professionalism® is a way of doing things that encourages high-quality work, emphasizes the value of others, and respects individuals and the community. To learn more about FIRST, go to www.firstinspires.org.
Featured Product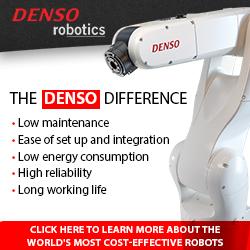 DENSO is the world's largest manufacturer - and user - of small assembly robots, employing over 17,000 of its robots in its own facilities. Over 77,000 additional DENSO robots are used by other companies worldwide. The compact, high-speed robots are used in traditional manufacturing sectors, as well as in advanced-technology applications in the medical, pharmaceutical and life sciences industries. Learn more about DENSO Robotics