Attend America's Largest Annual Design and Manufacturing Event in Anaheim, CA, from February 6-8, 2018
BURNABY, British Columbia, Jan. 9, 2018 /PRNewswire/ -- LMI Technologies (LMI), a leading developer of 3D scanning and inspection solutions, is pleased to announce its participation in ATX West in Anaheim, CA, from February 6-8, 2018. ATX West connects attendees with automation and robotics professionals for three full days of design and manufacturing immersion you can't find anywhere else.

ATX is also a great opportunity for industry professionals to experience Gocator 3D smart sensors, while immersing themselves in LMI's innovative FactorySmart® approach to inline automation, inspection and optimization.
The FactorySmart® approach goes beyond the simple data acquisition of standard sensors to provide a flexible, distributed and scalable solution to the real-world challenges of manufacturing today. Gocator delivers this FactorySmart® paradigm through a complete, built-in 3D inspection platform that runs seamlessly within the factory environment to dramatically improve production across industries.
"We have a powerful story to share with professionals working in manufacturing today, and that's the story of FactorySmart®. Automation doesn't have to be difficult. It can be intelligent, efficient, even elegant. At ATX West we look forward to sharing that story face-to-face with our partners and customers, while continuing to evolve the smart approach to factory production," said Dan Howe, LMI Technologies Regional Development Manager, Americas.
Visitors to the LMI booth will have the opportunity to interact with a LIVE multi-sensor demo of Gocator high-speed line profilers, or scan their own part in the laser and snapshot sensor playgrounds.
Valued partner HNJ Solutions, Inc., a leading provider of customized automation solutions, specializing in machine vision systems for automated inspection and robotic guidance, will be demoing the Gocator 3210 stereo snapshot sensor in the SensoPart booth (#4468).
Show Details:
DATE: February 6-8, 2018
LOCATION: Anaheim Convention Center, Anaheim, CA
LMI BOOTH: #4606
For more information or to book a personalized meeting with an LMI representative, please contact our Marketing Manager, Kassandra Sison at ksison@lmi3d.com.
About LMI Technologies
At LMI Technologies we work to advance 3D measurement with smart sensor technology. Our award-winning, FactorySmart® sensors improve the quality and efficiency of factory production by providing fast, accurate, reliable inspection solutions that leverage smart 3D technologies. Unlike contact based measurement or 2D vision, our product removes complexity and dramatically reduces implementation cost.
To learn more about how LMI's inspection solutions can benefit your business, we invite you to contact us at contact@lmi3d.com or visit us at www.lmi3d.com to explore the possibilities of smart 3D technology.
Featured Product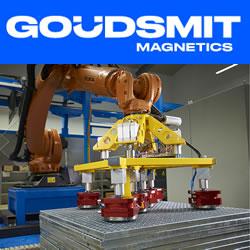 Magnetic robot end-of-arm tooling are suitable for the automated pick-up and positioning of steel or other ferromagnetic objects. They can be switched on and off and have a threaded mounting hole for robots. Magnetic grippers are an efficient alternative for traditional robot grippers. Application in automated production lines and for robots and pick-and-place systems. Magnetic product handling reduces the duration and number of operations. Goudsmit Magnetics is driven by magnetism since 1959. See how it works: https://youtu.be/hcXJ98mXHZE