Cost-Effective Linear Solutions for Machine Builders and System Integrators
Auburn Hills, Michigan (March 27, 2018) - As part of a continuing effort to advance automation, DESTACO is expanding its cost-effective OEM gripping solutions. The new T110 linear pneumatic table slides complement the successful G110 gripper solutions favored by OEMs. Together, they deliver improved speed and reliability versus comparable products on the market for high-speed machine part-transfer, pick-and-place operations, and machine tending applications.

Engineered for better performance, lower maintenance and faster operation, the T110 table slides have an industry-standard footprint allowing for drop-in replacement of competing products.
"Uptime and reliability are critical to our end-user market," said Matt McCartney, Vice President, Strategy, Marketing and Product Management at DESTACO. "The challenge was to engineer that reliability into gripping and linear solutions that are truly affordable. We believe these new solutions are going to exceed the expectations of machine builders and OEM global markets, and ultimately help our customers deliver a better product."
The T110 linear table slides benefits:
• 44 model configurations for machine tending applications
• Various stroke options ranging from 10mm to 150mm
• Smooth operation using a high-quality cross roller bearing system
• Shock absorbers or rubber stops for fine end-of-stroke adjustment
• Use with DESTACOs Robohand™ G110 grippers for part transfer systems
• High reliability, low maintenance to avoid unplanned OEM service calls
• Global support and expert service teams
Cost-effective bundled startup kits ensure OEMs and machine builders have everything they need for slide integration into their machines. They include sensors, stroke adjusters, shocks and stops necessary for installation.
To learn more about T110 table slides and other Robohand OEM Solutions, visit destaco.com or call (888) DESTACO (888-337-8226).
About DESTACO
DESTACO, a Dover company, is a global leader in the design and manufacture of high-performance automation, workholding and remote-handling solutions. The company serves customers in a variety of end-markets, including the automotive, life sciences, consumer packaged goods, aerospace, industrial and nuclear sectors.
Built on a legacy of more than 100 years, DESTACO offers a comprehensive portfolio of products designed to engineer precise movement, placement and control solutions that drive productivity and uptime for manufacturers around the world. The DESTACO family of products consists of industry-leading brands such as DESTACO Manual Clamps, Power Clamps, and End Effectors; CAMCO™ and Ferguson™ Indexers; Robohand™ Grippers; and CRL™ Manipulators and Transfer Ports.
DESTACO is based in Auburn Hills, Michigan, U.S.A. The company has more than 800 employees with 13 locations, in 9 countries, across the Americas, Europe and Asia.
DESTACO is part of Dover Corporation, a diversified global manufacturer with annual revenues of $8 billion. The company delivers innovative equipment and components, specialty systems, consumable supplies, software and digital solutions, and support services through four major operating segments: Engineered Systems, Fluids, Refrigeration & Food Equipment and Energy. Headquartered in Downers Grove, IL, Dover trades on the New York Stock Exchange under "DOV."
More information is available at destaco.com and dovercorporation.com.
Featured Product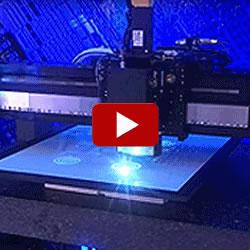 A traditional gantry system employs X-Y or X-Y-Z range of motion. Mounted on a base plate, usually granite, 2 parallel rails constitute the synchronized Y axis motion while the cross axis (bridge axis) provides the X motion. A vertical axis can be added on the bridge for the Z motion. A Split Bridge system can be less complex than a traditional gantry system because synchronization of the two parallel linear motors is not required. Both systems are used in industrial production, testing, and additive manufacturing.