Endeavor one of two finalists sharing $429 million awarded contracts to compete for the Common Robotic System-Individual (CRS-I) production program
BOSTON, April 9, 2018 /PRNewswire/ -- Endeavor Robotics, the world's leading supplier of unmanned ground vehicles, announced that it has won the Engineering Manufacturing Development (EMD) contract for the US Army's Common Robotic System-Individual (CRS-I) program. In being awarded the EMD phase, Endeavor was selected as one of two finalists for the down-select program.

Final award of the production contract will occur after the EMD down-select for full delivery of over 3,000 robots. The down-select award is scheduled to be announced during the second quarter of GFY-2019.
CRS-I is designed to be a 'back-packable' robot weighing less than 25 lbs. and will feature a common platform so operators in the field can quickly reconfigure it for various missions by adding or removing different modules and payloads.
"The CRS-I program helps our military take another step in bringing interoperable open architectures rapidly to the field. We need to make sure our latest robots not only perform the mission, but also are easy for users to control and adapt quickly to changing needs," said Endeavor Robotics President Tom Frost. "We are honored to be chosen for this EMD contract and look forward to working with the Army to bring world class robots to our men and women in uniform."
Last September, Endeavor won the US Army's Man Transportable Robotic System Increment II (MTRS Inc. II) program. Under that $100 million award, with options worth up to $58 million, Endeavor is building a medium-weight robot, which will provide increased stand-off capability for soldiers and be used to detect and confirm a range of potentially lethal threats.
"We've listened to our customers and have been investing internal resources to deliver mission-critical features end-users need in ground robots in expedited fashion," Frost added.
About Endeavor Robotics
Based in Chelmsford, Mass., Endeavor Robotics is the world's largest supplier of tactical unmanned ground vehicles, delivering more than 6,500 robots to customers in over 40 countries. Every day Endeavor products operate in areas of conflict, assist law enforcement agencies, and respond to natural disasters to protect lives. Endeavor Robotics is 100% based in the United States, including R&D, manufacturing, staffing and ownership. For more, visit us at EndeavorRobotics.com, or on Twitter at @EndeavorRobotic.
Featured Product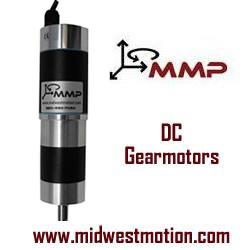 Midwest Motion Products, Inc. (MMP), is a well-established, healthy, & growing Family Owned Business, founded in 2001. MMP specializes in cost-effective standard DC Gearmotors, Motors, Controls, and ancillary equipment. Known world-wide for our "Lightning Fast" delivery capabilities, you can have a Standard Planetary or Right Angled DC Gearmotor BUILT and SHIPPED, often on the very same day you call. Offering Brushed and Brushless designs, with winding voltages ranging from 12 VDC to 120 VDC, we can deliver your "Robust & Reliable" samples within HOURS, instead of weeks, or even months.