All-new programming app gives children the ability to create custom coding for their Jibo robots
BOSTON, April 12, 2018 /PRNewswire/ -- Jibo, Inc., creator of the first social robot for the home, today announced the U.S. launch of Be a Maker, an all-new mobile application that teaches children how to code by allowing them to program their Jibo robot.

Using a technology based on the open-source Scratch programming language, children can use the Be a Maker app to create customized programs for their Jibo robot to perform. Users can control what Jibo says and how he moves and behaves, selecting from lists of his signature sounds, screen animations and expressive movements. Using Be a Maker, children can do things like instruct Jibo to introduce himself to friends or deliver customized messages complete with specific screen animations and body expressions. Users can also explore and try out new programs by following guided tutorials, which they can then replicate and modify.
Be a Maker, designed for children ages 7-12, challenges children to use logic, problem-solving and computational thinking, which are core skills required for programming. Because the program allows users to code specifically for a social robot, it forces them to engage simultaneously in both critical and creative thinking in a completely novel way, while helping support and grow their interest in STEM.
"With Be a Maker, Jibo becomes a unique medium through which children can not only practice programming, but do so with a highly-capable social robot -- one that can see you, identify you, recognize what you're saying, and express himself through speech, graphics and compelling, expressive movements, " said Cynthia Breazeal, Chief Experience Officer and Co-Founder, Jibo, Inc. "Be a Maker creates a very accessible but powerful programming experience in which kids can engage their imagination as they practice ideating, developing and bringing to life exciting projects that leverage Jibo's distinct capabilities as an AI robot. These are skills that can be applied to any field and will serve them both inside of, and beyond, the classroom setting."
Be a Maker was developed in partnership with everis, an NTT DATA company, and is a part of the organization's CLOQQ initiative.
"We are proud to be able to include Jibo in CLOQQ, our fun-learning social initiative," said Sergio Marco, director in the everis Innovation area. "Our objective is to motivate children so they can be makers, improving their environment and strengthening their confidence through creative technologies and learning experiences. With Jibo, we are taking a step further towards achieving that goal."
Similar to the Jibo Commander App, Be a Maker was designed with privacy and security in mind, and has measures in place to protect the privacy of Jibo's users and families. Jibo's owner must authorize the use of Be a Maker by enabling the feature in the Jibo App, and must authenticate the pairing by logging into the Be a Maker app with their Jibo owner account credentials. Be a Maker can only be activated if the user is connected to the same Wi-Fi network as their Jibo robot.
Be a Maker is currently available for free download in the Apple App Store for iOS devices, and will be available for Android devices later in 2018.
The introduction of Be a Maker follows the January launch of the Jibo Commander App, and the December release of Jibo Music powered by iHeartRadio, which streams music, news and talk radio via iHeartMusic Original stations. In addition to playing music, Jibo can answer a wide variety of questions, play the role of photographer at your next party, help you stay updated on a loved one's flight status, and control your smart home devices through both direct product integrations, as well as integrations with IFTTT, among other capabilities.
Jibo was built by some of the most respected minds in social robotics and artificial intelligence, including Massachusetts Institute of Technology professor and industry pioneer, Cynthia Breazeal. Jibo was named one the "Best Inventions of 2017" by TIME Magazine, appearing on the publication's cover for the double issue.
To learn more about Jibo or order a Jibo, visit www.jibo.com.
About Jibo, Inc.
Founded in 2012, Jibo, Inc. is widely known for creating the eponymous robot, Jibo: the first social robot for the home. Jibo is built to interact and communicate with the people around him, and he uses advanced Natural Language Understanding (NLU) along with speech and facial recognition to forge relationships with his family. Jibo, Inc. officially launched Jibo to the public in 2017. The company is privately held and headquartered in Boston.
About everis, an NTT DATA Company
everis is a multinational consulting firm providing business and strategy solutions, development and maintenance of technological applications and outsourcing services. The company, which carries out its activity in the banking, insurance, industry, utilities, telecommunications, public administration and health sectors, reached a turnover of 1,031 million euros in the last fiscal year. It currently has over 19,000 professionals distributed in its offices and high performance centers in 16 countries.
About NTT DATA Company
NTT DATA is a leading IT services provider and global innovation partner headquartered in Tokyo, with business operations in over 50 countries. The company's emphasis is on long-term commitment, combining global reach with local intimacy to provide premier professional services varying from consulting and systems development to outsourcing. For more information, visit www.nttdata.com.
Featured Product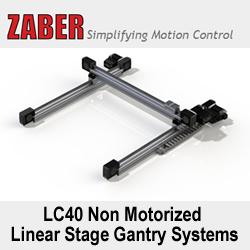 Zaber's X-LRQ-DE Series of linear stages have high stiffness, load, and lifetime capabilities in a compact size. The integrated linear encoder combined with stage calibration provides high accuracy positioning over the full travel of the device. At 36 mm high, these stages are excellent for applications where a low profile is required. The X-LRQ-DE's innovative design allows speeds up to 205 mm/s and loads up to 100 kg. Like all Zaber products, the X-LRQ-DE Series is designed for easy set-up and operation.