inVia's Robotics-as-a-Service platform and Picker Robots to Support RSL E-commerce Fulfillment and Warehouse Productivity
LOS ANGELES, May 9, 2018 /PRNewswire/ -- inVia Robotics, the provider of the next generation of robotics warehouse automation solutions for e-commerce fulfillment centers, today announced that Rakuten Super Logistics (RSL) has deployed inVia's autonomous warehouse robotics technology within its Nevada operations. Using the inVia Picker robots and cloud-based Robotics-as-a-Service (RaaS) management system, the company expects to increase its e-commerce fulfillment and warehouse productivity by more than 300 percent as the solution scales with data collection and optimization.

Rakuten Super Logistics (RSL) is a leading national e-commerce order fulfillment company that has been on the forefront of order fulfillment technology since 2001. Clients nationwide rely on RSL's proven expertise and ability to offer customers scalability, flexibility, and cost savings.
"For RSL and our broad array of clients, inVia Robotics presents an exciting opportunity to scale demand, manage costs and improve inventory accuracy utilizing a RaaS model," explains Michael Manzione, RSL's Chief Executive Officer. "Our partnership with inVia is indicative of our company's commitment to providing clients with state-of-the-art technology designed to maximize efficiency and minimize costs."
inVia Robotics supports e-commerce companies in improving fulfillment and streamlining supply chain processes among growing demand and competition in the space. inVia's goods-to-person-fulfillment, a subscription-based model, was chosen ahead of competitors due to its ability to increase efficiencies across many operating cost layers within RSL's facilities. The company's fulfillment needs extend throughout several warehouses across the U.S., among major population centers that support expedited delivery for consumers. inVia's flexible and adaptive mobile robot automation can optimize RSL's U.S. operations at a scalable rate.
"We're excited to deploy our robots with Rakuten Super Logistics to support and increase warehouse productivity and provide an edge over competitors," said Lior Elazary, founder and Chief Executive Officer of inVia Robotics. "inVia's technology and accessible RaaS platform will help the company elevate its e-commerce solutions, streamline fulfillment and continue to scale its operations to meet a growing customer demand."
The initial pilot deployment was completed in RSL's Las Vegas-based warehouse earlier this month in only three days. inVia's patented autonomous mobile Picker robots will increase productivity and fulfillment across an array of warehouse operations, including picking, packing, goods replenishment and conducting cycle count, reducing shrinkage and improving accuracy by reducing mis-shipments.
About inVia Robotics
inVia Robotics is a Southern Californian technology company founded in 2015 that provides the next generation of robotics warehouse automation solutions for e-commerce distribution centers and supply chains. As the developer of the world's first "Robotics-as-a-Service" autonomous mobile robot picking and goods-to-person system, inVia is powering the future of warehouse productivity without disrupting the ecosystem of a business's operations. For more details, visit www.inviarobotics.com and follow @inviarobotics on Twitter.
About Rakuten Super Logistics
Founded in 2001, Rakuten Super Logistics (RSL) is a leader in e-commerce order fulfillment, assisting leading e-commerce retailers to increase speed of delivery, improve order accuracy, decrease shipping costs, and increase customer satisfaction. RSL's cloud-based fulfillment platform for order and inventory management features integration with popular ecommerce platforms, and automatic order importing from online marketplaces, including: Amazon, Magento, WalMart Marketplace, and Shopify. RSL's 2-Day Delivery Network of wholly owned and operated fulfillment centers allows for 1 to 2-day delivery via ground shipping to 98 percent of the U.S.###
Featured Product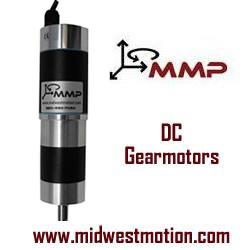 Midwest Motion Products, Inc. (MMP), is a well-established, healthy, & growing Family Owned Business, founded in 2001. MMP specializes in cost-effective standard DC Gearmotors, Motors, Controls, and ancillary equipment. Known world-wide for our "Lightning Fast" delivery capabilities, you can have a Standard Planetary or Right Angled DC Gearmotor BUILT and SHIPPED, often on the very same day you call. Offering Brushed and Brushless designs, with winding voltages ranging from 12 VDC to 120 VDC, we can deliver your "Robust & Reliable" samples within HOURS, instead of weeks, or even months.