Just three weeks remain for tennis players, coaches and tennis clubs to get their very own Tennibot at highly discounted early-bird Kickstarter pricing. Tennibot lets players focus on tennis while it uses computer vision and artificial intelligence to retrieve tennis balls.
Tennis players and coaches, looking to spend more time playing and less time chasing tennis balls, have made Tennibot a grand-slam success on Kickstarter, investing more than $60,000 (and counting) in the robotic ball retriever.

"Unlike next weeks French Open, where pros have the luxury of ball boys and ball girls to pick up tennis balls, most players and coaches have to stop practice or play for the tedious task of picking up balls," said Tennibot Founder and CEO Haitham Eletrabi. "With Tennibot, they can focus on perfecting their game while Tennibot does the grunt-work."
Nicknamed the "Roomba for the tennis court" by national media, Tennibot is the worlds first autonomous ball retriever. Its affordable, compact, easy to transport and uses computer vision and artificial intelligence to find and collect tennis balls on hard and clay courts.
Using the Tennibot app, players and coaches can select which areas of the court Tennibot will clear during a session. This feature is extremely useful for practicing serves or during coaching sessions when tennis balls accumulate on one side of the court.
"Tennibot can be programmed to pick up stray balls along a net or fence or collect balls around the perimeter of the tennis court," Eletrabi said. "During practice, it translates into more playing time and it allows coaches to focus on their students. Tennibot makes time on the court more productive and enjoyable for everyone."
Despite its compact size, Tennibot can collect up to 80 balls and has a battery that lasts up to five hours on a single charge. It also keeps track of the number of balls the player hits and how frequently they practice.
Tennibot has already garnered the Tennis Industry Association Innovation Award and received the 2018 Honoree Award from the Consumer Electronics Show.
For more information and to purchase Tennibot at an early-bird discount during the final three weeks of the crowdfunding campaign, visit Tennibots Kickstarter page today.
About Tennibot Inc.
Tennibot is an award-winning robotics company with offices in Auburn and Boston. Since 2015, the team has worked to create a product that will not only save players and coaches valuable practice time, but also make the game more enjoyable for tennis enthusiasts of all levels. For more information on the team and Tennibot, visit http://www.tennibot.com.
Featured Product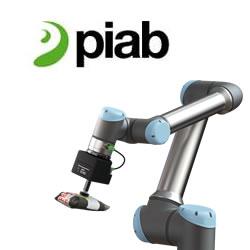 Piab's Kenos KCS gripper enables a collaborative robot to handle just about anything at any time. Combining Piab's proprietary air-driven COAX vacuum technology with an easily replaceable technical foam that molds itself around any surface or shape, the gripper can be used to safely grip, lift and handle any object. Standard interface (ISO) adapters enable the whole unit to be attached to any cobot type on the market with a body made in a lightweight 3D printed material. Approved by Universal Robots as a UR+ end effector.